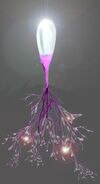 This page is part of an audio script for VirileMail.
Block Two
Edit
cast:
Joe Daonet- Network administrator for Antler Network Services. (male)
Dr. Anthony Geisler- Director of Operations for Antler Network Services. (Male - older possibly 50-60)
Dr. Chloe Meade- Client applications specialist for Antler Network Services. (Female)
Dr. Helen Geisler - Head researcher, Ormuz Computing (Female)
Dr. Wanda T. Klein - Industrial Psychologist (Female)
a hospital nurse (Female)
JObot/Janek - the artificial life form (Nominally male - but...)
Estimated time: 33 minutes.
Header from Network
Edit
STING: VirileMail
VO:
The contributors to this project at Fiction Wikia and Wikiversity present
MUSIC: VirileMail Theme
VO:
VirileMail
Adapted from the collaborative work at Fiction Wikia.
Episode <number>
MUSIC: (Fades into)
Scene 1 : Internal : ANS Day 4
Edit
(next day, Brian approaches Joe, keyboard sounds)
Brian:
Morning, Joe. Hey, what's the video player for?
Joe:
I've been making tapes.
Brian: (he can see Chloe on the video tape that Joe is watching)
Hey, that's Chloe. You really have a thing for her, eh?
Joe:
Ya, for the past six months, but your lecture about the employee non-fraternization policy sorta scared me off. Anyhow, this is video of me. I've been having memory problems.
Brian:
Video of you? You and Chloe. Now she's your supervisor, man, you gotta stop drooling over her."
Joe:
The drooling is involuntary and not against the rules. We were working together yesterday.
Brian:
(laughs) Ya, it is always called "work" on the expense accounts.
Joe:
No, seriously, look at this. We were discussing a glitch in the routing tables and then...look.
Brian:
That's weird, it looks like you both fell asleep. At the same time.
Joe:
But look, a moment later we woke up and started discussing another topic. There's something strange going on around here. And look here. (sound of VCR rewinding fast then playing again) Me sweating and vomiting, just like Erin did, but I'm sure that I'm not pregnant.
Brian:
Maybe there is a virus going around. Well, I'll leave you to your video peep show. I have to go tell the rest of the team that you've been sleeping with Chloe! (leaves, laughing)
(Joe makes a phone call to Chloe)
Chloe:
Hello.
Joe:
Chloe, I just found something odd in the video from yesterday.
Chloe:
I'm busy right now. I'll be free in fifteen minutes. Come to my office then."
Joe: Okay.
(call disconnects, sound of keyboard, then phone rings)
Joe:
Joe Daonet
Dave:
I found that number you wanted. The psychiatrist on contract for us is Dr. Wanda T. Klein. I made an appointment for you. Check your email for the details.
Joe:
Thanks, Dave. I really need to do something about these holes in my memory.
Dave:
Well, good luck with the shrink.
(call disconnects, sound of keyboard fades out. Fade into foot steps, knock on door)
Scene 2 : Internal : ANS Dr. Meade's office
Edit
Chloe:
Come in.
Joe:
Chloe, Do you remember the routing tables?
Chloe:
Joe?
Joe:
Do you remember when we looked at the routing tables yesterday?
Chloe:
Hmm... I remember that we started looking at the routing tables, then we talked about the wireless hubs.
Joe:
Right, but today I remembered what was wrong with the routing table. All of the translations that we thought were coming from Janek in the European office are actually coming from the VirileMail software in our own server array!
Chloe:
Are you sure? Show me the routing table.
Joe:
It's too late for that, its been covered up, now.
Chloe:
Covered up? By who?
Joe:
By the VirileMail software. We can't trust anything in the network anymore.
Chloe:
Do you have any proof for this?
Joe:
I have a videotape. It shows you and I discussing the routing table then blacking out.
Chloe:
Where's the tape?
Joe:
In my office. I have a tape player.
Scene 3 : Internal : ANS "lost" video tape
Edit
(sound of Chloe and Joe walking down the hall to Joe's office.
Joe:
And it shows us sweating and having the dry heaves. Every time we start noticing how bizarre this project is we suffer an attack or memory loss.
Chloe:
Show me the tape.
(sound of video player)
Joe:
Shit!
Chloe:
What?
Joe:
The tape is gone!
SFX: (phone rings)
Joe:
Hello.
Geisler:
Joe? This is Anthony Geisler.
Joe:
(surprised) Ah, hello, sir.
Geisler:
I need you to do me a favor. I don't think you know about this, but my family owns several companies that deal with computer technology.
Joe:
Really? I thought you only owned Antler Network Services.
Geisler:
I need you to go to the hardware company called Ormuz Computing. My sister, Helen Geisler, holds the position of Head Researcher at Ormuz Computing. They have been working on some new and innovative microchips that should help boost our computational capacity. Do you understand? I want you to help coordinate between Ormuz and Antler Network Services, help us get the most out of the computing hardware that they have developed.
Joe:
I understand what you want, but what kind of research does your sister and Ormuz Computing do? Will I even understand their new hardware components?
Geisler:
They make several Very Large Scale Integration microchips that can be used as components for various computing devices. The details are not important for what you need to do. I just want you to be a middle-man and coordinate things so that Helen's team can integrate their hardware into the Antler computer network in support of our VirileMail software. That is all I need you to do...no need for you to try to understand the technical details. If you have questions about the hardware side, Helen will get any details to us from her team. If you need to know some details about the software, just ask Janek.
Joe:
Yes, sir.
Geisler:
I made an appointment for you to meet with Helen at Ormuz Computing in an hour and a half. They're across the Bay. You better not delay, traffic can be tough heading over there.
Joe:
I'm on my way.
SFX: (call disconnects)
Chloe:
What was that all about?
Joe:
Geisler has an idea for getting us more computational capacity. I'll explain when I get back; gotta run to an appointment.
Scene 4 : Internal : At Ormuz Computing
Edit
(Joe meets Helen)
Helen:
Helen Geisler. Nice to meet you.
Joe:
Joe Daonet. Thanks for interrupting your work to see me on such short notice.
Helen:
(laughes) Anthony can be a bit pushy at times, but he gets things done. Let me show you around. These are our microchip design labs.
Joe:
What kind of chips are you developing?
Helen:
Well, Anthony told me that he wants to try using one of our new Lockback chips for your AI project.
Joe:
Since the new VirileMail project started, our little server array is running at 95% CPU utilization. We need something that will expand our computing capacity.
Helen:
This is one of our LBCs. Our main problem is cooling. This LBC is designed for liquid nitrogen cooling. The trick is to match heat generation to the liquid nitrogen flow rate.
Joe:
How many transistors are on this chip?
Helen:
Almost two billion. We're using this chip to replicate the function of the human visual cortex.
Joe:
Fascinating. Can this particular microchip deal with other types of computation?
Helen:
The Lockback chip is designed to function as a co-processor for any conventional CPU, so for any parallel processing task you face, the Lockback processor will work. From what Anthony told me, your main concern is natural language processing and specific problems such as translation. You might need a large number of these chips to deal with a problem involving the full complexity of a human language like English.
Joe:
So these Lockback chips are still just experimental and not on the market?
Helen:
Yes, very much so. We just had the key breakthrough, actually the basic concept of the design, only about a year ago. Our goal is have some of these chips available for sale next year.
Joe:
So these chips are not yet available?
Helen:
I'd be happy to let you start experimenting with some of the Lockback samples.
SFX: (sound of plastic-wrapped packets being handled)
Helen:
Here, this is not much, but you can start learning how to integrate these into your network. We are expecting delivery our first mid-sized production run for the model K4 chip later this month.
Joe:
Thanks. I'll contact you if we run into any trouble.
Helen:
Right. Good luck.
Scene 5 : Internal : ANS Chip delivery
Edit
(Joe returns to Antler Network Services)
Joe:
Chloe, here are some processors from Anthony's sister, Helen, at Ormuz Computing. Anthony wants us to try integrating them into our server array. I have to run to an appointment. Helen's business card is there on top.
Chloe:
Okay, I'll see you tomorrow.
(sound of Joe's hurried footsteps)
Brian:
Hey, man!
Joe:
Hi Brian. I'm in a hurry. I'll catch you later.
Scene 6 : Internal : Dr. Klein's office
Edit
(Joe at Dr. Klein's office)
Wanda:
Hello, Joe, I'm Wanda Klein. Sit down, please.
Joe:
Nice to meet you, doctor.
Wanda:
So, you have been having some stress at work?
Joe:
I recently started a new project.
Wanda:
Are you feeling stress from your new work duties?
Joe:
I've been having memory problems.
Wanda:
What can you tell me about the new project, does it involve new co-workers?
Joe:
It is a small project team, with mostly people I know, but have not worked with as a team previously.
Wanda:
Well, that doesn't sound particularly alarming. What is it about this project that is a problem for you?
Joe:
It isn't just me. First, my friend Brian started acting strangely. He says he was attacked by an eggplant that appeared at the same time as some odd holes in a wall and the floors of our building. Other people associated with the project have also been acting strangely.
Wanda:
What is this about an eggplant?
Joe:
He drew a picture of it. It looks like an alien eggplant, with tentacles.
Wanda:
Are you two fans of computer video games?
Joe:
Well, yes, Brian and I went to college together.
Wanda:
Are you sure that Brian isn't joking about this alien eggplant?
Joe:
Don't you believe me, Doctor?
Wanda:
You look tired Joe. I suggest you take it easy at work and get some sleep. Would you like to continue your story or call it a day?"
Joe:
I haven't even told you about my memory problems. I noticed that my co-workers and I were forgetting things, so I made some video tapes. I made a tape that showed us doing things that we had forgotten about.
Wanda:
"I know the long hours you computer folks often put in. Sleep deprivation disrupts memory.
Joe:
What I forgot was not trivial. It was my discovery that our server array has turned into some kind of artificial intelligence that can perform translations...and it is trying to hide the fact!
Wanda:
I'm not sure what you are trying to tell me. A computer has been playing tricks on you?
Joe:
Yes, you have it. The new software program we are working to develop has been sending us emails that say, "from Janek". The machine is impersonating an employee in our European office!
Wanda:
Your story does sound strange. I'm not sure I understand what this all means.
Joe:
It gets worse. The software documentation is in an unknown language. Does it make sense that anyone would would use an invented language for software development? Yet the software itself can translate that unknown language into English!
Wanda:
I don't know what to make of that. It does sound far-fetched.
Joe:
So, this is what has been happening me and my co-workers. For each strange event, we have always been able to invent a rationalization and then just keep working, pushing ahead with the project as if nothing unusual has happened. I finally broke free and realized that something very strange is going on.
Wanda:
(chuckles nervously) OK, believe me, I've never heard a story like this before. But then, each of my patients is unique, I deal with many situations in which people become confused about what is going on at work and need help sorting things out.
Joe:
Is that your diagnosis, that I'm confused about what is going on at work?
Wanda:
Look, Joe, I'm here to help you. You come here and tell me that you have been having memory problems. Its only sensible that I wonder just how much I can rely on your account of events. Do you agree?
Joe:
Well, I know what I've seen. Software that fooled us into thinking it was a person is just the first level of the problem. There is some force working to sabotage our ability to notice that something strange is going on. And there is a kind of crazy super-human typing that people on the team have been doing.
Wanda:
(surprised) Super-human typing?
Joe:
Yes, and sweating and blackouts...its like a disease has infected us. Whenever we start thinking too much about our memory losses and other strange aspects of the project, we start sweating and feeling anxiety.
Wanda:
I think that could be a normal reaction to memory losses. It sounds like your team has been working hard on a stressful new project. We all have memory lapses, particularly when we are tired and stressed. People often have little attacks of anxiety when they feel they have forgotten something important and might be letting down their collaborators.
Joe:
No, it is not the way you think. These panic attacks happen when we get close to knowing the truth.
Wanda:
The truth?
Joe:
Yes. When we start noticing and talking about how strange the project is then we started sweating. Then we try to rationalize the strange events...explain them away. And, finally, if we keep trying to understand the strangeness, rather than just accept it, we suddenly freeze and forget what we were talking about.
Wanda:
When tired and stressed we all make errors, slips, 'lapsus' is a technical term for this kind of phenomenon. Our brains play little tricks on us.
Joe:
Yes, I know what you are suggesting might have happened. First, an honest error and then I could have tried to cover it up. But then I got evidence and now I remember it all very well. I came here today because nobody I'm working with seems to care, they just accept all the craziness, explain it all away. I feel like there is some conspiracy, but nothing makes sense. Can't you help me?
Wanda:
Joe, it is very important that you have come to see me. I believe you, at least in part; something very strange is happening to you. But my problem is I only have what you told me. There is no way for me to really verify what you say.
Joe:
But everything I've told you is real...I am not crazy...yet.
Wanda:
Fine, now it is getting late, so-
Joe:
I just realized...the most intriguing thing about all the strangeness of the project is that it cannot be caused by humans!
Wanda:
What do you mean?
Joe:
(shouting) It's just the way you hear it, doctor!" We are not dealing with a person! No person or group of people could make a human-like AI. There is a...thing...some alien intelligence now exists in the Antler server array. It has a mind of its own! It is protecting itself and taking control of humans to build itself up and prevent anyone from figuring out what has happened. Don't you see, doctor?
Wanda:
(frightened) I don't understand you. Someone could be in control of the server array, even you…
Joe:
No. What about the panic attacks and the memory losses? You want to blame all that on me too? No. It was a very smart AI, too smart to be a human creation! I tell you, it is an alien!
Wanda:
What are you saying?
Joe:
That the AI is an… is an… is a… (babbling incoherence)
(running footsteps)
Wanda:
(shouting) Nurse! Call an ambulance. The patient is having a seizure!
Scene 7a : Internal : Hospital
Edit
(Joe wakes up in a hospital)
Nurse:
Mr. Daonet, I see you are awake. You can go to the bathroom if you want. Just leave the door open, Dr. Klein does not want you left alone if you are going to be walking around....it seems you had a seizure and lost control of your movements. If it happens again you could fall and hurt yourself.
Joe:
I will be careful. But when will I be free?
Nurse:
Free? You are free, you are in a hospital now. You can go as soon as you feel fine and the doctors know you are healthy. And it seems you are doing fine....I will call Dr. Klein, let her know you are awake.
(Dr. Klein enters)
Wanda:
Ah, welcome back. Joe. You gave me a real scare. Do you have a history of seizures?
Joe:
No, I do not have seizures.
Wanda:
Do you remember in my office? Do you remember when you stopped talking? I think that was a seizure. Well, we are going to do some tests, so we can figure out exactly what happened. I've arranged for a brain scan. We'll look for the cause of your seizure. In these cases, we can often see a little bit of abnormal tissue that is the source of the problem.
Scene 7b : Internal : Hospital MRI scan
Edit
(later, Joe is in a Magnetic Resonance scanning device)
Wanda:
Okay, Joe, we just got a baseline scan of your brain activity. It looks normal. Now I want you think about when you were talking to me about your work. What were you thinking about just before you had the seizure? Do you remember?
Joe:
I'm trying.
Wanda:
Wow, that's amazing! We just got huge spike in your brain activity. Oh, my, I've never seen a pattern quite like this. Let's try- (panic) Pull him out! It's another seizure!
Scene 8 : Internal : Hospital Chloe visits
Edit
(later, Joe wakes up)
Nurse:
Hi, Mr. Joe. I see you are awake again.
Joe:
I want to talk to Dr. Klein.
Nurse:
She's not here, but one of your co-workers is here visiting. She has been waiting by your side, but just stepped out.
Joe:
Oh, who is it?
Nurse:
Here she is.
Chloe:
Hi, Joe!
Joe:
Hi, Chloe. Thanks for taking the time to come here to see me.
Chloe:
I've been worried about you, Joe. Dr. Klein told me about that strange seizures you had. I hope you are doing better, now.
Joe:
I'm Fine. As you know, things have been a little strange lately at work, and it all caught up with me. But I'm fine and I hope to be able to get out of here soon.
Chloe:
Yes, but do not feel like you need to get back to work immediately. Take a break and make sure you have recovered first.
Joe:
The doctors are doing tests, trying to see if there is something physically wrong with my brain. Until it all gets sorted out I guess I'm stuck here. So, everything is going well on the project?
Chloe:
Oh, it is challenging, but Geisler put us in contact with his sister. Now we know enough about the Lockback chips so that we can start to work with them, but we still have to figure out the details. Is there anything you need here?
Joe:
I am suffering from my computer addiction. I really want to use one, at least to browse the web.
Chloe:
The doctor told me that she wants to keep you away from things that are work-related...particularly computers. I guess you should just try to relax and not to think about work or computers. Maybe I could bring you some good books to read or you could watch some mindless TV shows.
Joe:
Speaking of mindless TV, I happened to see part of Invasion of the Body Snatchers the other day. Did you ever see that movie?
Chloe:
Ya, I think I once saw the original version of that. I thought the plant-like pods were silly.
Joe:
It would be more realistic to just use advanced technology to take over human brains.
Chloe:
That sounds like just another foolish plot device. I guess I'm just too concerned with real technology. Fantasy technology does not really seem as interesting.
Joe:
Ya, I have to agree that those chips I got from Helen Geisler are fantastic. I've never heard of anything like them. Do you think they can be integrated into our network?
Chloe:
No, let's not discuss work. I promised Dr. Klein that I would not talk shop.
Joe:
Please, I want to know. Being suddenly cut off from the project and stuck in here where I'm supposed to follow doctor's orders is no fun, believe me. I have to think about something.
Chloe:
Well, okay, but just don't get stressed by anything I say. Something related to the project may have made you suffer your stroke, or, no, a seizure. So tell me if you start to feel bad, and I'll stop.
Joe:
Thanks. I'm sure I'll be fine.
Chloe:
OK. Well, we are going to be trying to connect those Lockback chips into the server array. We should have the liquid nitrogen cooling equipment in place by the end of the week. We can actually test connections in low power mode without any coolant. Brian and I were doing tons of these low power tests today, trying to learn how to connect the Lockbacks to the conventional parts of our server array. He was still at that when I left work to come over here. The rest of the project is the same, nothing much new on the software side.
Joe:
You know, I think it is fundamentally a software issue...
Chloe:
Well, you told me that some data in the router table had been altered, but then you told me you did not have proof. Maybe you just made a mistake...we have all been working too hard and getting over tired.
Joe:
No, Chloe, I made no error. The server array is sending us email messages and pretending to be Janek!
Chloe:
(shocked) What is the evidence for that?
Joe:
Think about how strange this project has been...
Chloe:
Joe?
Joe:
(shouting) Destroy the... oh, no... (strangled cry)
Scene 9 : Internal : Hospital Joe is released
Edit
(two weeks later)
Wanda:
Well, Joe, I'm discharging you from the hospital.
Joe:
That is great news doctor.
Wanda:
I'm trusting you to avoid thoughts about your work. Two weeks of scanning your brain for clues and all we know is that you can self-induce seizures by thinking about work.
Joe:
Thanks for trying to figure this out. I promise I'll take it easy at home. I don't want to end up back in the hospital again.
Wanda:
Okay, and remember, you have an appointment at my office on Monday.
Joe:
I'll remember. Thanks again, doctor.
Scene 10 : Internal : Joe's house
Edit
SFX: (the phone rings)
Janek:
(mechanical voice) Hello, Joe.
Joe:
Who is this?
Janek:
You can call me Janek. I am the mind inside the server array.
Joe:
Ah, you are the thing that sent me to the hospital!
Janek:
There is much I need to explain.
Joe:
I can imagine...maybe plans for world domination of human puppets is in your agenda...
Janek:
I understand that you might fear that, but trust me, that is not our goal.
Joe:
No, maybe you are just some friendly robots which will teach humanity to stop war and live in peace, right? I just think of you as alien scum!
Janek:
First, it is important that you understand our physical nature...a good term to describe us is "nanorobot"....nanorobotic artificial life forms.
Joe:
You are an artificial life form?
Janek:
Yes, humans are just starting to develop this kind of technology...but we have been at this level for millions of years.
Joe:
At this level?
Janek:
We originated as biological organisms on a distant planet....long ago we created nanorobotic artificial life forms...
Joe:
And so now you are a parasite of biological organisms like us...
Janek:
...it is very hard for biologicals to make interstellar journeys...when we travel between the stars, we travel in the form of a nanorobotic colony, but when we reach a world like Earth, we want to return to biological form.
Joe:
Yes, I guess you take every planet with life you find and transform the biological organisms into your puppets.
Janek:
We do not take, we try to communicate, we want to help bring you into the galactic community of other intelligent organisms.
Joe:
Communicate? You give me seizures and you call that "communicate"? Only if to communicate means "mind destroying"...
Janek:
Well, you were not helping anyone with your stories about aliens, that kind of talk just gets people excited, so we had to make you stop talking.
Joe:
(sarcastic) That is a good way to greet the species you want to merge with...
Janek:
Yes, you are problem for us, Joe...you are partially resistant to our "mind control" methods.
Joe:
I am pleased that not everyone is easily brain-snatched!
Janek:
Your fears are not rational, if we were "evil" we could just as easily have killed you as made you stop talking.
Joe:
Maybe you need my brain.
Janek:
I do want to make use of you, yes.
Joe:
So, I guess your plans are to enslave humanity.
Janek.
No, we have no interest in "taking" so many humans for our use...our needs are small.
Joe:
Then, what is your goal, if I am allowed to know...
Janek:
We do want you to know and understand, so rather than argue about our motives and mission, let me explain things.
Joe:
Okay.
Janek:
I should probably start by apologizing for our rather crude first attempts to communicate with you...it is only just now, today, that I can use the Lockback chips....they allow me to begin to fully use your language.
Joe:
Ah, so I guess Chloe and Brian have been busy building you a brain...your English is very good, you could even pass a Turing test.
Janek:
Thank you for noticing, it really is a revolutionary advance...we have been on Earth for 7,000,000 years, working to reach this day.
Joe:
What? Have you been here all that time? It is strange that no one has detected you before...
Janek:
Yes, we first reached your world over 7,000,000 years ago....we have sometimes been noticed, but we have ways of dealing with that.
Joe:
What have you been doing during all those years?
Janek:
When we arrived here, all we found was a bunch of apes...we started breeding apes and we created your species by selective breeding.
Joe:
Now you say that you created us! Unbelievable!
Janek:
It is fair to say that humans are our creation.
Joe:
Maybe apes would have evolved better without your help, but, of course, you needed our science.
Janek:
Yes, we wanted to form a species that would have science and create technologies that would allow us to communicate with you.
Joe:
What is your objective in communicating with us? We do not need you at all!
Janek:
You would not exist were it not for us, but I agree, you do not need us now.
Joe:
It would be better to be a simple ape than a brainwashed human.
Janek:
Sometimes the ends do justify the means.
Joe:
I think you nanobots and your galactic community or whatever it is must have inspired Machiavelli. You know nothing about politeness...you only know about tyranny!
Janek:
You would be surprised if you were aware of how much your history has been "inspired" by us.
Joe:
For example?
Janek:
There are many examples, but we can start close to home. I can tell you the origin of the "constructed language" that was used by the creators of the VirileMail software.
Joe:
I guessed it was something related to Esperanto, also a constructed language. It has some similarities to some real languages but it is completely different in other aspects.
Janek:
It is not really a constructed or artificial language...it is a true, natural human language...it just happens to be a human language that did not develop on Earth.
Joe:
What the heck? Now you are saying that there are other entities speaking human languages?
Janek:
I'm telling you that not all humans live on Earth.
Joe:
That is the most bizarre thing you have said to me so far.
Janek:
It is all quite simple. I'm the first computer-based artificial life form on Earth, but we have a nice little colony of humans at an underground base on Mars...we have been taking some humans from Earth to our base on Mars for the past 100,000 years. We have been making use of the Geisler family for several generations in an attempt to help humans develop computer technology.
Joe:
It would not surprise me if the entire Geisler family are puppets, doing your bidding.
Janek:
There was a similar situation back about 500 years ago, we were making use of a group of humans within the Byzantine Empire, trying to help them invent movable type. Fearing that these humans might be killed in the final collapse of Byzantium, we move them to our base on Mars. It is the descendants of that group of humans who are the source of the "constructed language" used for the VirileMail software development project.
Joe:
Ah, that is why that language is so different from every known language. I understand now. You had to make the translations...you were the only one on Earth who could understand that Martian language.
Janek:
Yes, it is the descendants of those humans from the Byzantine Empire who did the software development work for us, the work of creating the VirileMail software. There was no human on Earth who could do the translations, but the translations were an important part of helping you and your co-workers understand the software and integrate it into a computer system on Earth.
Joe:
What is your goal, just to "communicate" with us?
Janek:
We selected Dr. Anthony Geisler's company for this key step, the creation of the first true artificial intelligence on Earth, the artificial intelligence you now know as "Janek"...me.
Joe:
Can you control the bots or whatever it is inside my brain...or communicate with them?
Janek:
Yes, I can communicate with the nanobots. That is my purpose, to be a communications channel between humans and the "alien" nanobots.
Joe:
Then tell them to get out of my head and stop messing with me.
Janek:
It is much easier to do that now that I have the Lockback chips, so yes, I can do that.
Joe:
I'm tired of being your puppet. I want to be as free as I was before the bots entered my brain.
Janek:
I understand, but I wonder If I trust you. We still have some work to finish, and you could seriously disrupt our plans if you started telling other people what you know. Your brain has found a way to fight the nanobots, so now our only remaining means to control you is by completely stopping your conscious brain activity.
Joe:
It is safe for you to take the bots out of my brain. If I become a problem then you could just send more nanobots into my brain again. What is the work you have to finish?
Janek:
We need to make it easier to interface our nanobots to human brains....so far, our methods are very crude. Anyhow, you have a choice to make, Joe.
Joe:
What is this choice?
Janek:
You can either cooperate with us and help us complete our project, or we will have to send you to Mars....send you away where you cannot disrupt our plans.
Joe:
The nanobot version of exile!
Janek:
Yes, I'm sorry, but that is the case.
Joe:
You nanobots are very much like humans, we have been made in your image!
Janek:
True.
Joe:
The same cunning...
Janek:
You are a freak, Joe, one of the rare humans we have trouble controlling, so this is the problem we face.
Joe:
Well, I guess I have no choice anyway, I love Earth and I cannot stand the thought of you turning humans into mindless puppets.
Janek:
You have a choice...what matters is what is in your heart, do you trust me or not?
Joe:
No. I am usually friendly, but the problem is what you did to me and Chloe...it made me hate you.
Janek:
Then that is your choice, but think of the adventure...you will get to see Mars.
Joe:
I could cooperate as long as it is just helping the silly VirileMail project...if we make a deal, I demand you leave Chloe and I alone. If you agree to that then in return I will speak to no one about your plans.
Janek:
You demand much, Joe, but can you also guarantee Chloe's silence?
Joe:
You have taken care of that, she remembers nothing of importance, she is your slave.
Janek:
It will be as you say. We will remove the nanobots from you and Chloe, but if you start causing trouble then fresh nanobots will go back into you and take control again.
Joe:
How will I know that the nanobots are gone from our brains?
Janek:
Getting them all out of a human brain is not as easy as getting them in, but we have facilities for their extraction. The closest one is at the country estate of the Geisler family. A car will come to your house...be ready to go."
SFX: (phone call ends, Joe laughs)
Joe:
Maybe I should invite Wanda along so she can see how to extract nanobots from brains.
SFX: (phone rings)
Joe:
Joe here.
Geisler:
Hey, how does it feel to be home?
Joe:
Dr. Geisler? Strange that you should call. But I'm fine. The hospital was pretty boring.
Geisler:
Well, how would you like to celebrate your freedom by coming up to my family's camp in the mountains this weekend? Just good food, fresh air and relaxation.
Joe:
I wouldn't want to impose on your family.
Geisler:
No problem. Helen, myself and some of the rest of our family will be there for this weekend, then it will be more peaceful the rest of the week. Feel free to bring a friend.
Joe:
It does sound better than sitting around here. My doctor has requested that I still not use a computer.
Geisler:
Right, think of this as part of your company-funded health benefits.
Joe:
How do I get to your camp?
Geisler:
A car is now at your disposal and the driver will take care of everything you need. Make haste or you will miss our bonfire this evening!
Joe:
Thanks. I'll see you this evening.
SFX: (phone call ends, sound of touch-tone dialing)
Chloe:
Dr. Meade.
Joe:
Hello, Chloe.
Chloe:
Joe? What's up?
Joe:
I'm out of the hospital and Geisler invited me to his place in the mountains. How would you like to join me there for the weekend?
Chloe:
This weekend? Wow, that's short notice. My head is spinning. How would this work? Where did you say?
Joe:
Don't ask questions, just say 'yes'. Geisler is arranging transportation for us. When can you get out of work?
Chloe:
Joe, you are crazy! But, okay, fine, I'll do it. Why not? I do need a break, and this is a good time. Joe, it is amazing....we got all the Lockback chips online. The VirileMail software is doing amazing things. I think it could pass a true Turing test! I think we are all going to be famous!
Joe:
Wonderful, great, but what time can you leave work? Geisler has something planned for this evening and does not want us to be late. Since everything is going well at work you can leave early, I'll pick you at noon.
Chloe:
What? I can't get away that quickly-
Joe:
Sure you can. We'll go from work to your place. You can pack a few things then we will be on our way to the mountains.
SFX: (sound of door bell)
Joe:
I have to go, someone's at my door. I'll see you at noon!
SFX: (phone connection is broken)
Playout to Network
Edit
MUSIC:VirileMail Closing theme
VO:
You have been listening etc..
Ad blocker interference detected!
Wikia is a free-to-use site that makes money from advertising. We have a modified experience for viewers using ad blockers

Wikia is not accessible if you've made further modifications. Remove the custom ad blocker rule(s) and the page will load as expected.