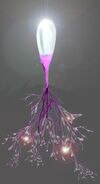 This page is part of an audio script for VirileMail.
Block Three
Edit
cast:
Joe Daonet - Network administrator for Antler Network Services. (male)
Dr. Chloe Meade - Client applications specialist for Antler Network Services. (female)
Briana Geisler - daughter of Anthony Geisler (female)
JObot/Janek - the artificial life form (nominaly male)
Observer Kresly - student of languages (male)
Nykieta Vavilov - head of the Viral Engineering Project on Mars. (female)
Lilya Vavilov - Nykieta's daughter (female)
Estimated time: 30 minutes.
Header from Network
Edit
STING: VirileMail
VO:
The contributors to this project at Fiction Wikia and Wikiversity present
MUSIC: VirileMail Theme
VO:
VirileMail
Adapted from the collaborative work at Fiction Wikia.
Episode <number>
MUSIC: (Fades into)
Scene 1 : Internal : Joe's House
Edit
FADE IN
(Joe goes to his front door)
SFX: Door catch
Briana:
Mr Daonet?
I'm Briana, and my car is at your service.
Joe:
Wow, you got here fast.
Briana:
Yes, sir.
Joe:
Well, we need to be at Antler Network Services by noon.
Do you know where that is?
Briana:
Noon is no problem;
I've been there before.
Joe:
Okay, I will pack a few things and then we can go.
Come in, and tell me, where is Geisler's place in the mountains?
Briana:
It's about 120 miles out from town, in the Antello Range.
We'll take a helicopter from Carter Airhub.
SFX: Door catch FADE OUT
Scene 2 : Internal : Helicopter trip
Edit
FADE IN
BED: Helicopter in flight

Briana:
Sorry about those bumps.
It should be smooth the rest of the way.
Chloe:
Briana, you look familiar. Have we met previously?
Briana:
Possibly, but it might just be the family resemblance.
SFX: Finger snap (by Chloe)
Chloe:
Yes, that's it. I should have known.
Joe:
What are you talking about?
Known what?
Briana:
Anthony Geisler is my father.
Joe:
Wow. That's neat.
I guess I'm not very observant.
Briana:
I'm going to baby sit the auto pilot.
Enjoy the ride.
Chloe:
I feel like I'm in a whirl wind...charging out here to the mountains.
Joe:
Geisler wanted us to move quickly so as not to miss out on the festivities.
Chloe:
How are you feeling?
Joe:
I've felt very cut off, wondering how you have been doing.
Chloe:
I've been worried about you.
Do you remember what happened?
You gave me a real scare.
You said something about 'destroying', then I guess you had a seizure.
I ran and found a nurse.
Joe:
I'm sorry I did that to you.
I was trying to tell you something, but I was being foolish.
Chloe:
What were you trying to tell me?
Joe:
I'm not sure this is the right time to discuss it.
Chloe:
What do you mean?
Joe:
I mean that I made a deal and it might mess every thing up if I said the wrong thing right now.
Chloe:
You mean a deal with your doctor, about not discussing work?
I've spent two weeks feeling guilty for discussing work with you when Dr. Klein had told me not to.
Joe:
No, I forced you to talk about work.
You were being kind, there is nothing for you to regret.
I was frustrated with you that day because you would not listen to me....or yourself. But that's not your fault.
Chloe:
(laughs) What do you mean I would not listen to myself?
Joe:
I hope we have a chance to really talk this weekend.
Chloe:
You are being so mysterious!
Why can't we talk right now?
Joe:
Right now, I feel trapped by talk and words.
There are other things we could do that would be more fun.
Chloe:
What sorts of things?
Joe:
There's something I've been wanting to do for a long time.
SFX: (sound of Joe kissing Chloe on her cheek)
Chloe:
Okay, you snuck that one in, Joe, but that's against the rules.
The lady gets to decide about kisses and the gentleman must obey.
Joe:
What kind of rules are those?
Chloe:
Those are called the non-negotiable rules, do you understand?
Joe:
I understand, but how do you know I'm a gentleman?
Chloe:
Behave yourself and let me tell you what happened at work today.
Just this morning we got all the liquid nitrogen cooling lines attached and brought the Lockback chips up to full processing speed.
And you should see the VirileMail software now!
Actually it is spooky, it's like talking to a person.
Its a true human-like artificial intelligence!
Joe:
Maybe we should call it an artificial life form.
Chloe:
Isn't that going too far?
Next you will be suggesting we start paying it a salary.
Joe:
Don't you think it is odd the way everything has worked out?
Suddenly a mysterious software application takes over the server array, overloads our computational capacity, then miraculously the Lockback chips arrive, just when they are needed.
Instant artificial life form!
We accomplish in three weeks what nobody in the field of AI research has been able to do.
Don't you wonder how that's possible?
Chloe:
I guess I've been too busy running the project to question our rapid progress and good luck.
Joe:
Luck?
Or just the expected result of a plan?
It's clear to me now that the Geisler family has been working towards this for decades.
(Briana speaks on intercom)
Briana (intercom):
This is "Camp Geisler", I'm landing behind your cabin.
FADE OUT
Scene 3a : External : Camp Geisler
Edit
FADE IN
SFX:Helicopter engine spin down, (fades into) BED: Bird song+ slight wind
(they walk from the helicopter to the cabin) SFX: Footsteps on gravel
Chloe:
Wow, this is real wilderness.
I didn't see any roads.
Briana:
We have no ground vehicles up here.
Chloe:
There's no road, no way to drive here?
Briana:
There is the old gravel service road, but it has not been used for many years.
It might not be passable any more.
CROSSFADE
Scene 3b : Internal : Camp Geisler Austin House
Edit
SFX: Footsteps on gravel
SFX: (cabin door opened)
Joe:
Wow, from the outside this looks like a cabin, but this is a modern home.
Briana:
(laughs) Sorry, Joe, there's no "roughing it" at "Camp Geisler".
This is a guest cabin we call Austin House.
There is a barbecue at my grandpa Bruce's cabin this evening.
Just come on up the trail in about an hour, the festivities should be getting under way about then.
I hope you have a fun stay here.
The bedrooms are upstairs. (Briana departs)
Chloe:
This is amazing
My parents own an antique shop, so I know something about the value of these furnishings.
Hardwood...maybe 200 years old....but the fabrics are all modern.
I'm going to go upstairs and unpack my bag.
SFX: (Joe's cell phone rings)
Joe:
(surprised) Cell phone service up here?
SFX:bloop
Joe (cont.)
Hello.
Janek (on phone):
This is your friendly AI calling....sometimes known as 'Janek'.
Joe:
Well, I'm here at the camp...how is the nanobot removal going to happen?
Janek (on phone):
If you are ready to start, go down the hall to the small room at the west end of the cabin.
Joe:
Should I get Chloe?
SFX:Footsteps
Janek (on phone):
No, let's start with you, then we can do her.
SFX: Internal door
Joe:
Is this the room? It looks like a small office.
Janek (on phone):
Sit down at the computer desk and relax.
Put one hand on the desk.
SFX: Chair being moved
Joe:
My hand just started to itch...it feels like bugs were crawling on it.
I feel dizzy.
Janek: (on phone)
(distorted)There,(clearer) how does that feel?
Joe:
Is that it?
I was expecting special equipment or something.
Janek:
No, that's all there is to it.
It was time for the nanobots to get out and they just exited your body.
Joe:
Then why did we have to come all the way out here in the mountains?
Janek:
We just needed to get you where...switch over to VoIP on the computer...
CROSSFADE (into)
Scene 3c : Internal : Spaceship to Mars
Edit
BED: Low 'alien' hum , almost imperceptible.
SFX: (phone signal fades out.)
SFX: Sound of Joe using keyboard
Joe:
(concerned)Janek? Janek?
Can you hear me?
What's going on?
SFX: Chair moving SFX: (Joe tries door)
(pause) Shit, why is the door locked?
Janek (via computer):
Joe?
Joe?
Don't worry about the door.
Sit back and enjoy the trip.
BED more noticable, Changes pitch upward.
Joe:
Trip? What trip?
Where is Chloe. Where am I?
Janek:
Chloe is fine.
You, however have started the adventure I spoke of.
You are on the way to Mars.
Joe:
You sneaky, lying, alien!
Janek:
Yes, I did trick you.
We just needed to get you to a convenient location for loading you on a spaceship.
The room you are in is a movable spaceship cargo compartment.
However, I did not lie to you.
Joe:
You did not lie?
Then what about Chloe?
Have you taken the nanobots out of her brain?
Janek:
Not yet.
I never told you when that would happen, but eventually we will have no more need to keep her under control.
Joe:
Why do I deserve this astronomical exile?
I told you that I would keep your secrets once you took the nanobots out of my mind...
(tetchy) I thought we could have had a deal.
Janek.
Yes, we do have a deal, but part of the deal is this adventure to another planet.
I want you to learn that we are not a threat to you.
You personally and 'you' as a species.
You will be able to talk to the humans who live on Mars.
They will make you understand that I am not as bad as you imagine me to be.
You will have a chance to meet the people who wrote the software code that is me.
And there is another related project on Mars that you will be interested in.
Joe:
OK, I will talk to these people, your puppets on Mars.
I do not expect to be able to trust what these puppets say if they are just going to try to make me trust you.
Janek:
We will see.
Joe:
I'd like to contact Chloe and let her know that I am safe.
She must be wondering what has happened to me.
Janek:
There will be a search for you, but it will be presumed that you went for a walk.
When they cannot find you they will assume that you fell off a cliff or otherwise got hurt.
Eventually the search will end and everyone will forget about you.
Maybe Geisler will endow a 'Joe Daonet Memorial Scholarship'.
Joe:
I guess it is within your power to erase me from history.
Janek:
Just relax and think of how small a human is, how small all humans are....
CROSSFADE
Scene 4 :Internal: Mars Base
Edit
BED: Industrial facility, initally muffled...
SFX: BED From previous scene, spaceship hum diminishes shifting down in pitch,
SFX: sound of spaceship hatch opening
Observer:
Joe, welcome to Mars! I am Observer Kresly. Follow me.
SFX: Chair moving SFX: Footsteps on Steel gantry,
Joe:
Wow, this chamber is huge! It's hard to believe we are underground.
Observer:
Just take things slow.
You'll soon adjust to the low gravity.
Do you know why you are here?"
Joe:
Janek complained that I'm resistant to nanobot control.
Observer:
Are you nanobot-free or still infected?
Joe:
As far as I know, I am no longer infected.
Observer:
Very well.
Here, this is a comlet, our standard communications interface here on Mars. Wear it like a headband.
SFX: Sound of headband being placed SFX: Comlet power up sound
Joe:
Ah, it is like a video cell phone.
SFX: Footsteps change to being on surfaced floor.
Observer:
I assume you'll want to visit the Varna software team.
Joe:
Varna software?
Observer:
That is the software development team here on Mars.
They created the software code for the Janek artificial intelligence.
Joe:
Yes, I'd like to meet them, eventually.
Janek hinted that there are other parts of his scheme besides computer software.
Observer:
You must mean the genetic engineering project.
That's the Vavilov team.
I'm good with languages, but we will need to arrange for a Russian translator if you want to visit them.
(Janek speaks through the comlet communications devices)
Janek (via comlet):
I can handle the translations.
Joe:
Janek? Is that you Janek? Are you here on Mars?
(in background, the Observer quietly makes a quick call to Nykieta, arranging a meeting)
Janek:
No, I'm still on Earth.
Joe:
How can we speak with no time delay?
Janek:
I have access to technology that allows communications signals to travel faster than light.
Observer:
Joe, I made an appointment to visit the Vavilov team. We can walk on over.
Joe:
This is amazing.
Except for the low gravity I'd think we are in a park on Earth.
Observer:
If you are getting used to the low gravity then try activating the video of your comlet, it will project an image into one of your eyes.
SFX: Comlet button noise
Joe:
I see the image of a man's face.
Observer:
That is Janek.
Joe:
This is an image of Janek?
Why do you show us a human face, Janek?
Janek:
Look closely, Joe.
This is a face of my species, the Origin Race.
It is similar to a human face because we selectively bred you humans to match our original form.
Joe:
It seems strange that your world evolved an intelligent species so similar to Earth's primate form.
Janek:
Well, in this case the selection was two-way.
The nanobots arrived on Earth with many potential 'origin races' available in their data banks.
They simply turned the Earth mission over to that species from our galactic civilization with the most similarities to primates...my species.
But we need not discuss events from seven million years ago.
Joe:
You have been on Earth for millions of years?
Janek:
We have worked all this time to establish contact with an Earthly intelligence.
We are now close to success.
I've established a supply chain for critical hardware, in particular more of the Lockback chip models are entering into mass production.
I'm spreading my software code to multiple server arrays and my computational power is now large enough that I can listen to many human conversations all the time.
Understood?
Joe:
I understand you.
You want to turn everyone on Earth into your puppets.
Janek:
I see that you are surprised to learn I can monitor your activities on Mars.
Perhaps you had imagined being isolated from me and free to plot with the Martians against me.
Don't bother to try.
You will soon learn that the Martians are completely loyal to me.
Joe:
What exactly are these Martian genetic engineers working on?
Janek:
They genetically engineer viruses.
The goal is, and has always been, to improve communication and coordination between humans and nanobots.
Joe:
How will viruses improve communications?
More likely it is a plan for the extermination of humans!
Janek:
The goal of the nanobots is not to exterminate humans or replace humans with AIs, but rather a kind of, well, fusion.
Joe:
Fusion?
Janek:
It should be possible to fully integrate nanorobotic artificial intelligence systems with human brains.
That is the goal.
Observer:
Okay, we have reached the main administrative office of the Vavilov project.
CROSSFADE (into)
Scene 5 : Internal : Vavilov Project Office
Edit
BED: Industrial facility sound much reduced
Nykieta:
"Добро пожаловать! Придено внутри!"
Janek:
(translating) Welcome! Come in!"
Observer:
Joe, this is Nykieta Vavilov, head of the Viral Engineering Project.
Nykieta, this is Joe Daonet.
Janek:
(to all)Everyone just keep speaking in your first language...I will translate.
Nykieta: (speaking Russian, heard under Janek)
Janek: (translating for Nykieta, Janek's English heard above Nykieta's Russian)
Thank you, Janek.
Welcome to Mars, Joe.
Janek told me that you helped get his software code running on Earth.
Congratulations! Janek is even more sophisticated than the best AI on Mars!
Janek: (speaking for himself in both English and Russian)
The new Lockback chips make a big difference in my abilities.
Joe:
Yes, I was Janek's puppet.
I did not know what I was doing.
I understand you are also his puppet and that you are making viruses for him.
Nykieta (translated):
(laughs) There are no strings on me!
Well, I'm not sure where to begin.
Are you familiar with the Badhesins?
Joe:
Bad sins?
Janek:
Badhesins are an ancient invention that goes back to the Root Species and the original nanobots.
A way was needed to create an efficient communications interface between nanorobotic life forms and biologicals.
A special biological nanodevice was engineered that allows nanobots to connect efficiently to living cells.
The Badhesin proteins need to be made by biological cells in order complete the link to nanobots, allowing biological-nanorobot integration.
Nykieta (translated):
Thirty years ago my mother discovered the fact that certain naturally occurring human cell adhesion proteins could be modified to function as Badhesins.
We have been using molecular modeling to design better Badhesion proteins.
Joe:
Why do you help these aliens improve their methods for enslaving humans?
Nykieta (translated):
Humans here on Mars have been working towards better communications with the nanobots for a long time.
When humans here on Mars first became aware of the nanobots they actually worshiped them.
The nanobots were, and are, like gods to us.
However, we now know it is silly to worship them.
Joe:
These alien nanobots are truly despicable...to invade the minds of people and trick people into worshiping them!
Nykieta (translated):
Well, that worship of the aliens was just human stupidity.
It turns out that the aliens have been doing selective breeding of humans in order to facilitate the evolution of humans towards greater compatibility with nanobots.
And now, finally, our rational design process is finally poised to go far beyond what has previously been accomplished.
Now we have made a virus that can insert the perfected Badhesin genes into neurons.
Joe:
How much work remains be done before this project is complete?
Janek:
Perhaps I am best qualified to provide that kind of estimate, Joe.
Let me assure you: the work is nearly done.
Joe:
Nykieta, do you think it is wise to provide these Badhesins to the aliens?
Nykieta (translated):
Ah, I see we are in the presence of a rebel.
Joe:
What do you mean, 'rebel'?
Nykieta (translated):
Our minority political party, here on Mars: the people who do not trust the aliens to protect human interests.
For tens of thousands of years every human on Mars lived in symbiosis with nanobots, but now it is a choice, and the rebels reject the nanobots.
There are even children of the rebels who have never been touched by nanobots.
Joe:
I have been freed from the nanobots.
I'd like to free everyone on Earth from this scourge!
Nykieta (translated):
You just do not know the aliens.
When you know them better you will welcome better communication with them.
Joe:
It sickens me to see someone like you who likes being a slave!
Observer:
Well, Nykieta, thank you for meeting with Joe, but I want to give him a chance to calm down and explore Mars for a bit.
I fear he is needlessly becoming upset by what he has heard here today.
Nykieta (translated):
Very well.
I suppose it takes some time to adjust one's thinking to conditions on another planet.
Goodbye, Joe.
CROSSFADE
Scene 6a : Internal : Mars Base : Going to Observer Kresly's House
Edit
BED:Industrial Facility (as in previous Mars scenes)
SFX: Footsteps
(Joe and the Observer leave Nykieta's office)
Joe:
Sorry I got upset.
Observer:
Perfectly understandable.
Joe:
Where are we going now.
Observer:
Are you hungry?
We can make our way over to Buzhan district and my favorite cafe.
Joe:
That sounds nice, as long as you are not getting tired of being my tour guide.
Observer:
Not at all!
I'm very pleased to have a chance to get to know you and to visit the key research projects.
Nykieta is one of the most famous scientists on Mars and I never met her before today.
Joe:
I wish I'd never met her.
How can she be aware of the nanobots and still help them with their scheme to enslave humanity?
Observer:
Here, we can ride in this little shuttle cart.
Sit there.
SFX: (sound of electric motor and motorized cart)
Joe:
This all looks like a golf resort on Earth.
Observer:
I think you realize that this entire underground city was built for the purpose of working towards the goal of improving communication between the nanobots and humans.
Joe:
How many people live here?
Observer:
About 20,000.
The aliens have long been frustrated that our population does not grow, but life is comfortable here and the entire population is very well educated.
Women on Mars prefer to have careers rather then have large numbers of children.
Joe:
Since everyone here is a slave of the aliens they probably don't feel like bringing children into this world.
Observer:
No, it is not like that.
Most people here on Mars lead ordinary lives.
Only a relative few actually work on projects with the aliens.
Sometimes I'm stunned when I think how long the efforts to improve human-alien communication have been going on....and now, here we are, and it is in our life time that everything is finally being achieved.
Joe:
You've lived with this knowledge all your life.
Can you imagine how stunned I am to learn this all so suddenly?
Observer:
Just think Joe, some day you will be in all the history books because of your roll in making Janek and bringing to life the first human-like artificial mind.
Joe:
I would be happier if I had never gotten involved.
Sometimes I'm astounded when I think how simple and pure my life was before...and how horrifying humanity's plight is...
SFX: (electric cart comes to halt)
Observer:
This is my home.
We're a bit too early for dinner and the cafe.
Let me show you my home. I generally work here.
I'm the chief sociological Observer for the Asian geo-unit.
Joe:
What do you mean "observer"?
Observer:
We Martians have watched and recorded all of human history.
Let's relax in my hot tub, then we'll go to dinner.
FADE OUT
Scene 6b : Internal : Observer Kresly's Home
Edit
BED: (inside the house, there is the hum of various appliances, HVAC etc...) SFX: noisy water jet noise from the hot tub, but diminishes as they walk away...
Observer:
This is a safe house.
With our comlets left there next to the spa we can now speak and Janek cannot hear us.
Joe:
You are a 'rebel'?
Like me....free of nanobots?
Observer:
No, Observers must all carry nanobots, but we have developed some control over them.
Joe:
I want to know how to release the people of Earth from the nanobots and the mind control they exert.
Do you know how to do that?
Observer:
Here on Mars some of us have escaped the control of nanobots.
The rebels are working to bring that same freedom to Earth.
Joe:
On Earth nobody knows about the nanobots.
I learned the secret and was sent here.
Observer:
I have made contact with a rebel leader. You can speak to her now using this comunit.
Joe:
Hello? Hello?
Lilya:
(voice seems like that of a cheap computerized speech synthesizer, the speaker is not a native English speaker) Now we talk, quiet. Nanobots no hear us.
Joe:
Who am I speaking to?
Lilya:
A "rebel". Like you....free of nanobots.
Joe:
It seems strange that Observer Kresly has a friend who is a rebel.
Aren't Observers of fundamental importance to how the aliens monitored events on Earth and keep control of the human population?
Is she free of nanobots or not?
Lilya:
(laughs) No, Observer always in nanobot control.
Kresly is a rebel sympath.
I think, you, too.
Joe:
Yes, I am sympathetic to the rebel cause.
I cannot bring myself to trust the aliens.
I want to know what their plans are and how to release people from the nanobots and the mind control they exert.
Do you know how to do that?
Lilya:
Bots out of brains?
Here, we ask....it must be done...by alien...alien law.
On Earth.... (pause)
Joe:
On Earth I learned the secret and was exiled here.
Lilya:
Yes.
Few know on Earth.
Joe:
You have no plan to help Earth?
Lilya:
I plan.
Joe:
Well, I would help, if I knew how.
It seems like almost everyone on Mars is a puppet of the aliens.
Lilya:
We resist.
Kresly controls nanobots....some. Enough.
Joe:
But is it really enough?
Is there really anything we can do to stop the aliens?
SFX: Com Link cuts out SFX: long silence
Joe:
Hello? Hello?
SFX: Footsteps (Joe finds Observer Kresly at the spa)
SFX:Spa noise Fades in
Observer:
Are you hungry? Let's go to dinner.
FADE OUT
Scene 6c : Internal : Trolley Ride
Edit
FADE IN BED :electric trolley sounds
Joe:
That was a fine meal. How is food grown here on Mars?
Observer:
We have farm crops and animals from Earth, but most of our food is synthesized from cultured microorganisms.
Joe:
I do not understand why the aliens bother with all this.
I've seen how they can control people...I know how they have controlled me.
Why do they sneak around on Earth...why not just complete their invasion and take control of the entire planet?
Is the problem people like me?
The aliens cannot yet control everyone?
Observer:
No, you are correct.
They could control Earth.
Well, they have controlled Earth for millions of years!
Look, it is a fundamental ethical rule for the aliens: they are not allowed to interfere with the development of Earth's culture.
Joe:
What are you saying?
That makes no sense.
The aliens have done nothing but interfere for millions of years!
I've seen how they take control of human minds and push the development of alien-inspired technology.
You say they are restricted by "rules", but the only rule I see is world domination!
Observer:
(sighs) Joe, you know how laws work: there is theory and there is practice.
If you like, tell yourself that the law is only this: that the aliens cannot fundamentally alter human cultures.
For example, by letting Earthlings know about nanobots or the human colony on Mars.
Joe:
All you are saying is that the aliens keep everyone on Earth ignorant.
(indignant) Happy and ignorant puppets!
(some anger) How can you even use the word "ethics" to describe it?
Observer:
Okay, then call it "alien ethics".
I've studied this situation my entire life and it makes a certain amount of sense.
If you must, just call it my intuition, but think about it for yourself!
Your every instinct is to resist the aliens, to view them as a threat to humanity, but where is that threat?
What is really so terrible about what the aliens have done?
Maybe you mostly fear the unknown and the future, but is your fear rational?
Think what Earth would be like if the aliens were unethical.
Joe:
Kresly, I've listened to you and I understand what you tell me.
Maybe if I live here long enough I will learn to fall asleep and stop fighting the aliens.
But that has not happened yet, and I don't care if Janek knows it.
BED (Fades over...)
SFX: Sound of braking
SFX: Trolley bell (electronic)
Observer:
This is your stop, Joe.
You can use that house there as long as you are on Mars. I'll see you tomorrow.
FADE OUT
Scene 6d : Internal : Joe's Martian Home
Edit
SFX: Footsteps SFX: Door
(Joe exits the electric trolley and walks to the house. Inside he finds Lilya.)
Lilya:
Hello, Joe.
Joe:
Do I know you?
Lilya:
We spoke earlier when you were at Kresly's house."
Joe:
Ah, you are the rebel!
Lilya:
I am Lilya Vavilov, Nykieta's daughter.
Rebels here on Mars have made a vaccine which can protect against the Badhesion virus.
We need you to deliver the vaccine to the resistance forces on Earth.
Joe:
Why me?
Lilya:
The Vavilov virus engineering project is near its goal.
Now Janek needs someone to deliver the Badhesion virus to Earth.
Observer Kresly has been prepared for that mission to Earth, but it is better to use someone familiar with current Earth culture.
Janek would prefer to use you, if you volunteer.
All you need to do is tell Janek that you will help him.
Joe:
But doesn't that mean that I must accept the return of nanobots to my brain?
Lilya:
Yes, that is correct.
However, we now have the vaccine and it will make you even more resistant to the nanobots than you are naturally.
Joe:
Have you actually tested this vaccine?
Lilya:
Yes, the vaccine has freed me from nanobot control.
Even though we have not had time to do much testing of the vaccine, it is based on a simple molecular principle and we have every reason to expect it to work for the people of Earth.
Joe:
So, I will be a guinea pig.
Lilya:
Put away your personal fears of nanobots and worries about subjecting yourself again to their powers of mind control.
There is some risk for you, but now you must think of Earth.
With this vaccine, the balance of power will shift.
The rebels on Earth will reveal to the world the existence of the aliens and their nanobot-mediated mind control.
The population of Earth will rise up in revolt and shatter the plans of the aliens.
Joe:
Janek will not stand by and do nothing.
Lilya:
When you go to Earth, you will take care of that problem.
We've figured out how Janek communicates with the nanobots.
I will show you how to sabotage Janek's communications lines and that will isolate Janek from the nanobots.
That will prevent the aliens from mounting a coordinated response.
FADE OUT
Scene 7 : Internal : Return to Earth
Edit
FADE IN BED: Spaceship hum as in inital trip to Mars earlier)
Janek:
Welcome aboard, Joe.
Thanks for helping get the Badhesin virus delivered to Earth.
Joe:
It will be strange to return home.
I suppose they all think I'm dead.
Janek:
What are your plans for the future, Joe?
Did you like Mars?
Joe:
It was fascinating to see an entire human culture there, but I'm still concerned about Earth.
Janek:
It is up to you Joe.
If you want, you can stay on Earth.
However, now that you are aware of Mars, you will no longer really be satisfied to live on Earth.
Joe:
Well, we will see, but I doubt that I will decide to return to Mars.
Janek:
It is that woman, right? Chloe.
The more I interact with humans the more I understand your motivations.
What do you expect to happen if you show up on Chloe's door step?
Do you imagine that she has been worried about you, that your sudden return will prompt her to welcome you with hugs and kisses?
Joe:
Well, if you understand human motivations then you must know that want to try.
I must visit Chloe in order to have a chance to live with myself.
Even if she rejects me that at least will put an end to my wishful thinking and let me move on with my life.
Janek:
Joe, why not save yourself the trouble and admit that she has repeatedly rejected you?
Joe:
I must try.
Janek:
Well, you have to do what you have to do.
All I need you to do is deliver the virus to the neuron-nanobot interface bioengineering project on Earth.
Joe:
I do not understand the goals of that project.
Janek:
The bioengineers have created a nanoscale adapter that efficiently links nanobots to human brain cells.
The adapter is inserted into human brains by a genetically engineered parasite, Naegleria fowleri, a type of amoeba capable of invading and surviving in the human brain.
The strain of Naegleria fowleri being used is called Nf23 and it has been genetically modified to reduce its ability to damage brain tissue.
Nf23 invades the brain by way of olfactory neurons in the nasal cavity and then becomes factories for the production of nanobot adapters.
Joe:
Any human so infected is an easy target for alien mind control?
Janek:
Efficient attachment of the adapters to neurons depends on the presence of Badhesins.
The Badhesins are the molecular glue that is needed to allow perfect integration of nanobots into human brains.
Your task is to deliver the Badhesin virus to the bioengineering team on Earth.
They will then simultaneously infect human brains with both the Badhesin virus and the amoeba that will produce the nanobot adapters in human brains.
If all goes as planned, the result will be an ideal biomolecular interface by which nanobots will integrate fully into human brains.
Joe:
And all this is only to allow better communication between humans and you aliens?
Janek:
Exactly.
Joe:
Do the scientists of the bioengineering team on Earth know anything about the Badhesin virus?
Janek:
Very little, no more than Anthony Geisler knew at the start of the VirileMail project, in other words, just a suitable cover story.
Joe:
What kind of cover story could make people help you take over human brains?
Janek:
They think they are making a cure for neurological diseases.
Joe:
When I have made the virus delivery, I want you to honor our agreement.
I want you to remove the nanobots from Chloe.
Janek:
(laughs) Very well, Chloe will be free.
Maybe you can then both go to Mars and 'live happily ever after'.
Do you have any more demands?
Joe:
I want no more tricks.
You say, 'Chloe will be free,' but I do not want you to later say, 'Oh, but I did not say when she would be free.'
Janek:
What do you want, a signed and notarized contract?
Really, you have no choice but to trust me.
But I agree, there will be no tricks.
After you deliver the virus you can come back to the spaceship and I'll fly you to Chloe. She will be free of all nanobots when you reach her...if you deliver the virus.
FADE OUT (into)
Ad blocker interference detected!
Wikia is a free-to-use site that makes money from advertising. We have a modified experience for viewers using ad blockers

Wikia is not accessible if you've made further modifications. Remove the custom ad blocker rule(s) and the page will load as expected.