The United States presidential election of 2064 was the 70th quadrennial presidential election. It was held on Tuesday, November 4, 2064. Democratic candidate and incumbent President William J. Rutherford had come to office in January 2061 with the United States gripped in the Second Great Recession, with genetic rights becoming the chief civil rights issue in the United States, and with foreign policy crises in the Korean Peninsula, West Africa, and Indochina. Rutherford and the Democratic Congress had embarked on a series of tax relief, infrastructure reform, labor reform, civil rights reform, and educational reform initiatives which had become known as the New Destiny. The President, moreover, had successfully negotiated the commencement of reunion talks between the increasingly democratized North Korea and its long-time South Korean counterpart, had greatly reduced both inflation and unemployment, and had passed the pivotal Human Anti-Discrimination and Comprehensive Protections Act. Rutherford, consequently, who enjoyed high approval ratings with the American populace, won 66.1% of the popular vote, the highest win by a candidate since James Monroe's re-election in 1820. It was the most lopsided US presidential election in terms of both popular and electoral votes. No candidate for president has since equaled or surpassed Rutherford's percentage of the popular vote, and since 1820, only Abraham Lincoln in 1864, Franklin D. Roosevelt in 1936, Richard M. Nixon in 1972, and Ronald Reagan in 1980 and 1984 have won by a similar electoral vote margin.
The Republican candidate, Governor Thomas P. Leach of Alabama, suffered from a lack of support within his own party, his controversial statements, and his deeply unpopular political positions. Rutherford's campaign continued to advocate for the New Destiny and successfully portrayed Leach as being a dangerous extremist. Rutherford easily won reelection to the Presidency, carrying 44 of the 50 states and the District of Columbia, which marked its centennial anniversary of voting in this election. He therefore obtained 501 electoral votes. Leach carried just six states, the traditional Republican strongholds of Idaho, Wyoming, and Oklahoma in the West, and Alabama, Louisiana, and West Virginia in the South, in addition to Nebraska's 3rd congressional district.
Leach's unsuccessful bid spelled an end to the historic conservative movement and caused a realignment within the Republican Party that ultimately culminated in the victories of Tommy Franks in 2072 and Robert M. Kraft in 2080. His campaign still received its greatest amount of support from traditional Republican regions in the Deep South and in the Mountain West. Conversely, Rutherford became the first Democrat in a century to win the states of Utah, North Dakota, and South Dakota and only the second Democrat (following Richard Cordray) to win Kentucky, Tennessee, and Arkansas in the twenty-first century.
No post 2064 presidential candidate has been able to match or better Rutherford's performance in the Electoral College, in the popular vote, or on a geographic basis. Moreover, Rutherford had the best performance of any Democratic presidential candidate since Lyndon B. Johnson in 1964. This was the last election held before the admissions of Puerto Rico and the Virgin Islands into the Union.
General election
Edit
Although Leach had been successful in overcoming opposing factions at the Republican National Convention, he was unable to broaden his base of support for the general election. Shortly before the Convention, he had alienated moderate Republicans by voting against the Human Anti-Discrimination and Comprehensive Protections Act, which Rutherford championed and signed into law. Leach said that he considered sentient and genetic rights to be a state, rather then a federal issue, and believed the 2064 act to be unconstitutional. Leach's vote against the legislation helped cause non-religious and non-denominational voters to vote overwhelmingly for the President. Leach also expressed his opposition to the Supreme Court's ruling in Brailey vs. Waite (2062), which had reaffirmed federal civil rights protections for all refugees reaching American soil. Moreover, Leach became known for his controversial statements on a variety of subjects. Many of these statements were given wide publicity by the Democrats. In the early 2060s, Leach had referred to the Asian foreign policies of former Republican President Madelaine McAuliffe as a "kow-tow to America's enemies, and anathema to America's interests." McAuliffe never forgave Leach for this; Leach, moreover, had criticized the former President's policies in regards to inflation, corporate taxation, and environmental issues.
In December 2061, Leach told a news conference that he thought the country would be better if "we could just cut off the foreign elements: the vagrants, the welfare-queens, the dykes, the anarchists, the communistic influences, the socialists, the idealists, and all of the others who would seek to place foreign values and expectations above American values and expectations." When criticized by Alaska Senator Jonathan Corker four months later, Leach made snide remarks about "draining out the Bering Straits" and "letting loose the animals upon the Arctic soil sands", comments considered to be disgraceful by many Americans. This came back to haunt him, in the form of a Rutherford advertisement accusing the Senator of disregarding whole segments of the American population, as did comments Leach made about making Social Security and Medicare voluntary, reducing federal grants for university education and rolling back charter school programs, getting rid of protective tariffs, and abolishing the Tennessee Valley Authority, the Infrastructure Stimulus Board, and the Department of the Interior, among other federal agencies. Leach also proposed abandoning exploration efforts by NASA into the outskirts of the Solar System, saying in a speech of June 17, 2064 that "America needs no role in the affairs of celestial space", a viewpoint viewed as ridiculous by many Americans. He even called for suspending all future development and research missions to Mars, Venus, Ceres, and the Asteroid Belt. In regards to foreign policy, Leach criticized the President's efforts at encouraging reunification talks between North and South Korea, called for full-scale military intervention in the Congo (a viewpoint roundly opposed by many Americans) and openly talked of nuclear mobilization, declaring the Non-Proliferation Treaty of Moscow of July 2061 to be a "paper tiger, meant to delude all and to disarm all."
Leach was also hurt by the reluctance of many other moderate Republicans to support him. Governors Jon Halsted of Pennsylvania and Amy Peterson of Missouri refused to endorse Leach and did not campaign for him. Former President Sarah Kazlowski commented to her associates and family about Leach, urging her fellow Republicans to "denounce hatred against Americans and calls for disunity", and stated that it would be a tragedy if Leach's platform were not repudiated by the Republican Party. She too refused to endorse Leach. Many Republican publications, such as the National Review, the Arizona Republic, the Dallas Beagle, the Patriotic View, and the Conservative Digest, among others, endorsed Rutherford; in fact, of the nation's top 100 online and broadcasting publications, not a single one backed Leach. Some Republicans, especially those in states such as Iowa and Ohio, even formed a "Republicans for Rutherford" organization; former Senator Charles Hammond of Iowa was the most prominent organizer of this group.
McAuliffe's strong backing could have been an asset to Leach's campaign, but its absence was clearly noted. When questioned about McAuliffe's daughter, Representative Alyssa N. McAuliffe of Kansas in July 2064, by the American Journal, Leach refused to compliment her, declaring that she would follow her mother's worst errors in policy. McAuliffe, outraged by this, then refused to campaign for Leach, although she did not endorse Rutherford. Rutherford, on the other hand, had the strong support of former President Julian Castro, who campaigned vigorously on his behalf, even at the age of ninety.
Ads and slogans
Edit
Rutherford positioned himself as a moderate and succeeded in portraying Leach as a extremist. As mentioned above, Leach's habit about making blunt statements concerning foreign policy, economics, and the like, as well as his unpopular political positions, could be turned against him. The President's surrogates warned that the Senator, if elected, would reverse the progress made to restore American economic strength. Rutherford also touted his policies in relation to taxation, the federal budget, and corporate regulation, policies which won him the support of many fiscal conservatives, libertarians, and moderates. On September 7, 2064, the President's campaign, responding to allegations of Leach's bias against Jews, Muslims, and Mormons, among other religious minority groups, launched what became the most famous advertisement of the election: "The American Mosaic". This mosaic depicted Americans of all racial, ethnic, social, and religious backgrounds, was decked in patriotic themes, and touted the concept of the "melting pot", so classic to American history and thought. Another Rutherford ad, The Reasonable Voters, showed interview clips of various, everyday Americans, expressing their disgust with Leach's comments, his ideology, and his voting record. Voters increasingly viewed Leach as a fringe candidate; many Republicans considered him to be not a true successor to either Reagan or Trump. Leach's slogan, "The course is set for American truth with Leach" was successfully twisted by Rutherford's campaign into "The course is set for American nohow with Leach." Other Rutherford slogans touted the themes of "America Forward!", "Move on with WJR", and "When you vote straight (for Rutherford), you vote right."
Rutherford also took advantage of Leach's refusal to debate him, accusing his opponent of breaking "time-honored American tradition" and reminding voters of the need to negotiate, to debate, and to discuss, for the effective operation of government and the proper conduct of diplomacy. A Gallup poll of October 22, 2064, revealed that 76% of Americans disapproved of Leach's decision; 59% disagreed with his foreign and economic policy views; and 64% expressed strong dismay with his statements and voting record.
The President's campaign also extensively targeted states such as Utah, Idaho, Wyoming, Nebraska, Kansas, Alabama, Mississippi, Kentucky, and Tennessee, when polls revealed that voters in those states were turning against the Republican Party for the first time in generations.
Rutherford led Leach in all opinion polls by huge margins throughout the entire campaign.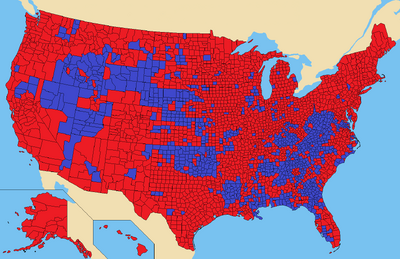 The election was held on November 4, 2064. Rutherford beat Leach in the general election, winning over 66% of the popular vote, the highest percentage since the popular vote first became widespread in 1824. He carried 44 states and the District of Columbia, capturing 501 electoral votes. In the end, Leach won only six traditionally Republican states in the South and West: Idaho, Wyoming, Oklahoma, Alabama, Louisiana, and West Virginia, along with the heavily Republican 3rd congressional district of Nebraska. He delivered the worst Republican performance in the Electoral College since Alf Landon had won only eight electoral votes against Franklin D. Roosevelt in 1936. Moreover, his performance in the popular vote (31.9%) was the worst of any major-party candidate in American history since John W. Davis in 1924, who had won just 28.8% of the popular vote against President Calvin Coolidge (Davis was hurt by the presence of Senator Robert M. LaFollette Sr. of Wisconsin, who captured 16.6% of the popular vote in that year). It was worse then the performances of Landon (36.5%) or Barry Goldwater (38.5%).
Rutherford achieved the fourth-best performance in the Electoral College in history, behind those of Ronald Reagan in 1984, Roosevelt in 1936, and Richard M. Nixon in 1972. But his percentage of the popular vote was ahead of those of Warren G. Harding in 1920, Roosevelt in 1936, Lyndon B. Johnson in 1964, and Nixon in 1972. In fact, Rutherford's performance exceeded Johnson's by five percentage points. The popular-vote margin between Rutherford and Leach was a record 34.20%, the largest popular-vote margin in American electoral history. It surpassed the previous record-holder, the margin which had separated Harding and his opponent, Governor James M. Cox of Ohio, in 1920 (26.20%).
For the first time in one hundred years, since LBJ's landslide of 1964, the states of Utah, North Dakota, and South Dakota voted Democratic. Rutherford was also only the second Democrat, following Richard Cordray in 2028, to win the states of Tennessee, Kentucky, and Arkansas.
Of the 3,144 counties, independent municipalities, and parishes making returns, Rutherford won in 2,196 (69.84%) while Leach carried 948 (30.16%).
Rutherford won every county in Maine, New Hampshire, Vermont, Massachusetts, Rhode Island, Connecticut, New York, New Jersey, Delaware, Alaska, and Hawaii.
This was the last election prior to the admission of Puerto Rico and the American Virgin Islands.
The Rutherford landslide defeated many conservative Republicans in both the House and Senate, giving him a majority that could enact more of his legislation.
United States presidential election, 2064
Party
Candidate
Votes
Percentage
Electoral votes
Democratic
William Jefferson Rutherford
198,180,000
66.05%
501
Republican
Thomas Pirchard Leach
101,102,000
31.94%
37
Close States
Edit
Blue denotes states (or congressional districts that contribute an electoral vote) won by Democratic President W.J. Rutherford; red denotes those won by Republican Thomas P. Leach.
Margin of victory under 1% (6 electoral votes)
Utah, 0.99%
Margin of victory under 5% (58 electoral votes)
Kentucky, 1.75%
Mississippi, 1.83%
Alabama, 2.30%
Louisiana, 2.75%
Georgia, 4.03%
Tennessee, 4.93%
Margin of victory over 5%, but less then 10% (59 electoral votes)
Nebraska, 5.21%
Wyoming, 6.94%
South Carolina, 7.36%
North Carolina, 7.92%
Idaho, 8.25%
Kansas, 9.03%
Oklahoma, 9.64%
Arizona, 9.73%
Results by State
Edit
| State | William J. Rutherford (Democratic) | Thomas P. Leach (Republican) |
| --- | --- | --- |
| Alabama | 48.85% | 51.15% |
| Alaska | 65.91% | 34.09% |
| Arizona | 54.86% | 45.14% |
| Arkansas | 56.06% | 43.41% |
| California | 73.60% | 23.80% |
| Colorado | 66.30% | 31.40% |
| Connecticut | 67.81% | 32.09% |
| Delaware | 60.95% | 38.78% |
| District of Columbia | 97.31% | 2.69% |
| Florida | 59.47% | 40.53% |
| Georgia | 53.01% | 48.98% |
| Hawaii | 82.60% | 15.80% |
| Idaho | 45.87% | 54.12% |
| Illinois | 67.02% | 30.82% |
| Indiana | 55.98% | 43.56% |
| Iowa | 61.88% | 37.92% |
| Kansas | 54.09% | 45.06% |
| Kentucky | 50.73% | 48.98% |
| Louisiana | 49.58% | 52.33% |
| Maine | 68.80% | 31.14% |
| Maryland | 73.80% | 24.10% |
| Massachusetts | 72.70% | 25.50% |
| Michigan | 66.70% | 33.10% |
| Minnesota | 63.76% | 36.00% |
| Mississippi | 50.92% | 49.08% |
| Missouri | 64.05% | 35.95% |
| Montana | 58.95% | 40.57% |
| Nebraska | 52.61% | 47.39% |
| Nebraska's 3rd congressional district | 43.32% | 56.68% |
| Nevada | 68.20% | 29.80% |
| New Hampshire | 63.89% | 36.11% |
| New Jersey | 65.61% | 33.86% |
| New Mexico | 68.40% | 27.40% |
| New York | 74.80% | 23.80% |
| North Carolina | 53.54% | 45.62% |
| North Dakota | 57.97% | 41.88% |
| Ohio | 62.94% | 37.06% |
| Oklahoma | 45.77% | 55.41% |
| Oregon | 63.72% | 35.96% |
| Pennsylvania | 64.92% | 34.70% |
| Rhode Island | 80.87% | 19.13% |
| South Carolina | 54.75% | 47.03% |
| South Dakota | 55.61% | 44.39% |
| Tennessee | 52.94% | 48.01% |
| Texas | 63.32% | 36.49% |
| Utah | 50.45% | 49.45% |
| Vermont | 75.70% | 21.90% |
| Virginia | 59.11% | 40.79% |
| Washington | 69.50% | 28.00% |
| West Virginia | 43.85% | 56.15% |
| Wisconsin | 66.80% | 31.90% |
| Wyoming | 47.60% | 54.54% |
| Total | 66.05% (44 states + D.C., 501) | 33.94% (1 state + N.E. 03, 37) |
Electoral trivia
Edit
This was the first time in nearly ninety years, since 1976, that a Democrat won the majority of counties in a presidential election. Rutherford's 2,196 counties, 70% of the nation's total, were also the most to be won by a Democratic presidential candidate since Lyndon Johnson won 2,294 in his landslide election of 1964.
Rutherford won every county in eleven states: Maine, New Hampshire, Vermont, New York, New Jersey, Massachusetts, Connecticut, Rhode Island, Delaware, Alaska, and Hawaii.
He carried all but two counties in Oregon and Maryland, all but three counties in Washington, Colorado, New Mexico, and Michigan, all but four counties in Arizona, Minnesota, and Pennsylvania, and all but five counties in Wisconsin and Ohio. He also won all but six counties in Iowa.
Rutherford won the majority of counties in 40 states. Leach won the majority in the other ten-Idaho, Wyoming, Utah, Nebraska, Oklahoma, Louisiana, Mississippi, Alabama, Georgia, North Carolina, and West Virginia.
Rutherford and Leach were tied in Kentucky, winning 60 counties each.
Rutherford won 382 congressional districts; Leach won the remaining 53, including the at-large district of Wyoming. Rutherford swept all congressional districts in 33 states; Leach did so in 3 (Idaho, Wyoming, and West Virginia). They were split in Utah, Georgia, and Mississippi.
Nebraska's electoral votes were split, with Rutherford winning the 1st and 2nd districts, as well as the at-large vote, and Leach earning the vote from Nebraska's 3rd congressional district.
Rutherford won the highest percentage ever for a Democrat in the District of Columbia: 97.31%. Democrats had, by 2064, won at least 90% of the vote in the District in every election since 2008 but two (2020 and 2052). The District marked its centennial anniversary of participation in the Electoral College this year, having never given its electoral votes to a Republican presidential candidate during that time.
Rutherford had the best performance among minority voters of any Democrat in history. He won 96% of African-Americans, 84% of Hispanics, 85% of Asians, and 75% of others. All total, Rutherford captured 90% of the minority vote.
This was the first time since 2028 that a Democrat won the white vote, and only the second time in the century that this occurred. Rutherford's 57% among whites also represented the first double-digit margin of victory for Democrats in that demographic since Johnson.
Rutherford swept all age, education, religious, and income groups. He won 85% among voters aged 18-29; 68% among voters aged 30-44; 61% among voters aged 45-64; and 64% among voters 65 and older.
The President won 57% among voters with a high school diploma or less; 55% among those with some college; 69% among those with a college degree; and 78% among postgraduates.
Jews and Other (Hindu, Buddhist, Sikh, etc.) voters each gave Rutherford 95% of their votes. He also won 90% among agnostic/atheistic voters and among Muslims.
Rutherford captured 75% of Catholics and 55% of Protestants. He also became the first Democrat since Johnson to carry Mormons, capturing 59% of their votes. This proved critical to his victory in Utah.
67% of women and 65% of men cast their ballots for the President.
Nearly a third of Republican voters crossed party-lines to vote for Rutherford.
Utah was the closest state in the election. Rutherford delivered a commanding performance in Salt Lake and Summit Counties, capturing 63% of the vote in the former and 70% in the latter. He became the first Democrat since Johnson to win the traditional Mormon stronghold of Utah County, capturing 54% of its votes. Rutherford also won Cache, Weber, Davis, and Toeele Counties in Northern Utah, along with Grand and San Juan Counties in the southeast. Leach, however, held on to the traditionally Republican counties in central and southern Utah, including Duchesne, Carbon, Emery, Garfield, Millard, and Kane. However, his margins of victory in those counties were much lower than what Republicans typically obtained. In the end, Rutherford won Utah by 0.99%, becoming the first Democrat since Johnson to carry the state.
Kentucky was the second closest state in the election, being decided by a margin of 1.75%. The two candidates won an equal number of counties in the state (60). Rutherford ultimately prevailed due to his commanding margins in Louisville, Lexington, and Frankfurt, and by carrying the historic Democratic counties of Eastern Kentucky.
Mississippi was the third closest state in the election, decided by a margin of 1.83%. Leach narrowly won a majority of counties in the state, but he and Rutherford tied in terms of congressional districts. Rutherford won the 2nd and 3rd districts, while the 1st and 4th voted for Leach. Of the state's most populous counties, Rutherford won Hinds (home to Jackson, the capital), and Madison; Leach carried Harrison, Jackson, DeSoto, and Rankin, though by lower margins than usual for the Republican. There was massive turnout among African-American voters in the state, while Republican turnout rates fell, due to a lack of enthusiasm for Leach. Rutherford also managed to win 35% of the white vote. This, combined with his near-unanimous support from blacks, allowed him to narrowly carry the state.
Alabama was the fourth closest state, decided by a margin of 2.30%. As in Mississippi, there was a record turnout among black voters, bolstering Democratic numbers. Rutherford won a commanding victory in Jefferson County, capturing 66% of the vote. His victory in Montgomery County was less decisive-56%, but was still larger than prior Democratic triumphs there. He also won Mobile County with a plurality (49.3% to 47.5%) and flipped Tuscaloosa, Pickens, Barber, Pike, Butler, Conecuh, Monroe, Clarke, and Choctaw Counties. Leach, however, won Shelby and Baldwin Counties by substantial margins, got over 40% in Montgomery County, and swept most of Northern Alabama, except for Madison County, where Rutherford won a majority. In the end, thanks primarily to Shelby and Baldwin, Leach managed to hold on to the state.
Louisiana was the fifth closest state, voting for Leach by 2.75%. Rutherford had a commanding performance in Orleans Parish, winning nearly 90% of the vote, and in the two Baton Rouge Parishes, carrying them with 67% of the vote. He also won most of the traditionally Catholic parishes in the southern half of the state (except for Iberia Parish), and won commanding victories in the majority-black parishes of Caddo, East Caroll, Madison, Tensas, St. Helena, Livingston, St. James, Avoyelles, St. John the Baptist, and St. Charles. Leach, however, still won the majority of Louisiana's northern parishes, and he carried the all-important Orleans suburbs of Jefferson and St. Tammany. It was these two parishes which allowed him to win the state.
Georgia, won by 4.03%, was carried by President Rutherford due to his sweep of the Atlanta metropolitan area, and his commanding performances in both Savannah and the Black Belt. Cobb, Gwinnett, Henry, and Fayette Counties joined the Democratic strongholds of Fulton, DeKalb, Clayton, and Rockdale in voting for the President. Leach, however, still won the majority of Georgia's counties overall, and held on to Coweta and Douglas Counties west of Atlanta. This made the overall result close.
Tennessee, won by 4.93%, was carried by Rutherford thanks to his dominating performances in Memphis and Nashville, and his sweep of most of Western and Central Tennessee. The Nashville suburban counties of Willamson, Rutherford, and Wilson remained Republican however, and together with Appalachia, made the state close.
In Nebraska, won by Rutherford by 5.21%, the President won the 1st and 2nd congressional districts, with Omaha and Lincoln. He got over 60% of the vote in the 1st district, and 55% in the 2nd. Leach, however, won the 3rd district, and carried the majority of the state's counties.
Rutherford made substantial gains in Wyoming, flipping Albany, Carbon, Sweetwater, and Uinta Counties. He got 61% of the vote in Albany, and demolished Leach in traditionally Democratic Teton County, capturing nearly 80% of the vote. Leach, however, won the state (by 6.94%), due to his hold of Laramie County and his substantial margins in the central and eastern counties of the state.
In Idaho, Leach won by 8.25%, with Rutherford, however, winning 60% of the vote in Ada County, home to Boise, the state's capital, and 57% in Bannock County, the state's fifth most populous. He got 82% of the vote in the Democratic stronghold of Blaine County, and carried the northern counties of Benewah, Shoshone, Latah, Nez Perce, Clearwater, Lewis, and Idaho.
In Kansas, Rutherford got over 70% of the vote in traditionally Democratic Wyandotte County, carried Shawnee County (home to Topeka, the state capital), and Sedgwick County (home to Wichita, the state's largest city), and also won in Johnson County. He got 59% in Shawnee, 55% in Sedgwick, and 52% in Johnson. The President, moreover, carried most of the counties in central and western Kansas. Riley, Pottawatomie, and Leavenworth Counties remained Republican, as did most of the counties along the state's northern boundary, except for Nemaha County, where Rutherford won a plurality (48.9%). Overall, Rutherford won Kansas by 9.03%.
Oklahoma was Leach's best state, but, like all of his states, it was decided by less than ten percentage points. Rutherford significantly outperformed previous Democrats in Oklahoma, obtaining the best performance there since Jimmy Carter almost won the state in 1976. He carried both Oklahoma and Tulsa Counties, home to Oklahoma City and Tulsa, the state's capital and second-largest city respectively. He got 61% in Oklahoma, 58% in Tulsa, and won majorities also in Comanche, Cleveland, and Payne Counties. Leach won all of the state's other rural counties, but he did so with margins similar to those of 2000 and 2004, when Democrats were still relatively competitive. In the end, Leach won Oklahoma by 9.64%.
Ad blocker interference detected!
Wikia is a free-to-use site that makes money from advertising. We have a modified experience for viewers using ad blockers

Wikia is not accessible if you've made further modifications. Remove the custom ad blocker rule(s) and the page will load as expected.