Author Soshanim (Works) requests that you do not drastically change this literary work's content without first seeking approval.
By all means, please help fix spelling, grammar, and organization problems. Thank you.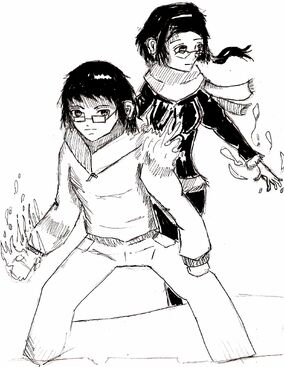 Titans on Earth is a light novel written by Soshanim with illustrations by the same author.
The Story has so far 1 volume in development, with a series of 3 volumes planned so far.
Series status
Edit
Chapters are expected to be launched every two weeks.
Story Synopsis
Edit
In 2034, an astronomical event known as the Titan Fall, where thousands of meteors desintegrated on Earth's atmosphere, manifested a strange mutation on a small portion of humanity, bestowing them the power of having their thoughts become reaility to an extent.
After some negative and angered response from those who were unaffected, the ones mutated into super-humans were transferred to the biggest prison or exile known to history: Tartarus city.
Being an independent institution, Tartarus welcomed the despised humans and helped them develop further their abitlties. The inhabitants of the city were named Titans, and this story is about a group of Titans who are engulfed by the city's secrets.
The "Titans on Earth" series by SoshanimEdit
Ad blocker interference detected!
Wikia is a free-to-use site that makes money from advertising. We have a modified experience for viewers using ad blockers

Wikia is not accessible if you've made further modifications. Remove the custom ad blocker rule(s) and the page will load as expected.