This is a story of Victoria, the same Queen as in real history, but unlike it, the Monarchs of the United Kingdom still wield aboslute power, though they now abide by parilamentary manner. This is my second story. It will have a lot, or at least some, detail in it. Please do not edit this story, unless there is a spelling or grammar mistake.
INTRODUCTION
Edit
The epic story of Victoria, by the Grace of God, Queen of the United Kingdom of Great Britain and Ireland, Defender of the Faith, Empress of India, and Queen of the Dominions and Colonies beyound the High Seas. She is only eighteen when she comes to the Throne, and she wields aboslute power over the most powerful and largest empire the world has ever known. Will she become the greatest ruler of this empire, the best of the century, or will she become a unpopular, power-hungry woman? Read to find out.
Disclaimer: This is NOT real history. It is alternative history and of my own imagination!
PART 1: BIRTH OF A PRINCESS
Edit
It was 24 May 1819. In the Royal rooms at the Kensington Palace, Victoria, Duchess of Kent and Princess of Saxe-Coburg-Saafield, was giving birth to a child. She had been pregenant for nine months, with, hopefully, a boy that was to one day become the King of the United Kingdom. Several ladies-in-waiting were helping with the birth, and members of the royal family were surronding the bed. Victoria's husband, the Duke of Kent, was holding her hand as she screamed in pain, as she had asked, as the baby began to push out. Blood started to come out from her vagina, at whom the baby was to come through. She yelled in agony while the ladies said "Push, Your Highness! Push!". She did, with all her remaining strength, and after a couple more minutes, the baby popped out, crying as a newborn always does. The ladies then cut the baby's emblical cord and saw it's gender.
"It's a girl!", the lady holding the newborn said. This was not expected. The Princess and the Duke had both hoped for a boy to carry on the name. And now a girl was to become Queen one day! But they commanded "May we see her?". The lady came over, nodding, and slowly handed the baby into her new mother's waiting arms. The mother, Princess Victoria, smiled at the crying newborn. The Duke looked on the baby and smiled as well. They loved her at first sight, as parents should love their children.
At the time of the baby's birth, her grandfather, George III, was on the throne. He had reigned for fifty-nine years, the longest of any British monarch at that time. George ruled with aboslute power. However, in 1810, the king had a mental disease, becoming insane, and he was blinded and made deaf. So, his son, the Prince of Wales, George, became Prince Regent. None of the king's eldest sons, who were the Prince Regent (later George IV), the Duke of York, and the Duke of Clarence (later William IV), had surviving legimitate children. Thus the baby became fifth in line to the throne, after her three uncles and her father.
On 24 June 1819, a month after her birth, the baby princess of Kent was christened in the Cupola Room at Kensington Palace, by the Archbishop of Canterbury, Charles Manners-Suton. The baby's godparents were Emperor Alexander I of Russia, the future King George IV of the United Kingdom (her uncle), Queen Charlotte of Württemberg (her aunt, whose sister The Princess Augusta Sophia stood in proxy) and Duchess Augusta of Saxe-Coburg-Saalfield (her maternal grandmother, for whom Princess Mary, Duchess of Gloucester and Edinburgh, the infant princess' aunt, stood proxy). During the christening, the Archbishop accidentially dropped the baby into the water, for which he said "If she can survive that, then she will be a strongheaded Queen indeed!". The princess' name was a manner of debate. The Duke of Kent and the Prince Regent wanted the name Elizabeth, as to them it sounded English, while the Emperor and the mother of the princess wanted Alexandrina. Finally, the name Alexandrina Victoria was compromised, after the Emperor of Russia and the princess' mother.
PART 2: HER CHILDHOOD
Edit
Princess Victoria was the only legitmate child of George III's fourth son, the Duke of Kent. He was already over fifty years of age, and unlikely to inherit the Throne. On 20 January 1820, the Duke went out in a long walk in the cold with insufficent footwear and no coat. After coming back into Woodmouth Cottage, Sidmouth, Devon, where the Kent family were spending their winter, he complained of a fever and started coughing and sneezing. His wife put him to bed as he progressively became sicker with a very smashing flu. Finally, on 23 January, as the Princess Victoria's mother wrote "the Duke died in his sleep.......he died at a more horrible time then bearable". He was fifty-two when he died, and the baby Victoria was under a year of age. He had also been married to Victoria's mother for only three years, since 1818. This moved Victoria up in the line of sucession. She was no longer fifth in line for the throne, but fourth, after the Prince Regent, the Duke of York, and the Duke of Clarence. But this would change quickly as well. On 29 January, King George III died, and the Prince Regent became George IV. Thus she was now third in line for the throne, after the Duke of York and the Duke of Clarence. This would also change as well, when, in 1827, the Duke of York died from brain tumor. Thus she became second in line to the throne, after Duke William. In 1830, George IV died, and Duke William became King William IV, with Victoria becoming the heiress presumptive, first in line for the throne. At the time, British law made no provision of a child monarch. Therefore, a Regent needed to be appointed if Victoria were to succeed to the throne before coming of age at the age of eighteen. To solve this, the Parilament issued the Regency Act, 1830, which provided that Victoria's mother, the Duchess of Kent, would act as Regent during the Queen's minority, if she acceded to the throne while still a minor. However, the King, although he apporved the act, disliked Princess Victoria (the mother), and on least one occasion stated he wished he could live until Victoria's 18th birthday to avoid a Regency.
Victoria's childhood was a very sad and boring one. Her mother was overly protective of the princess. So, Victoria lived in near isolation under the "Kensington System", a strict and elaborate set of rules and protocols developed by the Duchess and her comptroller and supposed lover, Sir John Conroy. It was aimed to render Victoria ignorant and completely dependent on the Duchess and Conroy.
Under this cruel system, Victoria was never allowed to be apart from either her mother, her tutor, or her governess. She was kept isolated from other children; her mother and Conroy strictly monitored and recorded her every action and entirely controlled with whom she was allowed to meet. She had to share a room with her mother. When it became clear that Victoria would inherit the throne, they tried to induce Victoria to appoint Conroy her personal secretary and treasurer via a long series of threats and browbeating, to no avail. This led to Victoria's dislike of them. When she became queen, she expelled Conroy from her household and confined her mother to a distant corner of the palace, often refusing to see her. After marrying, the Queen had her mother exiled to Germany and she refused to have anything to do with her.
Victoria's main companion was her King Charles spaniel, Dash, and her horse, Rock. They were animals, but were one of the closest things to her. During her childhood, the closest adult influence to Victoria was Louise Lehzen, her governess, who later became Baroness in Hanover. Under Lehzen's guidance, Victoria learned English, French, Latin, chemistry, physics, astronomy, mathematics, history, music, geography, commerce, agriculture and constitutional law, many of which had been learned by her grandfather George III in his childhood. She became trillingual and had a excellent command of English, since her native language was German, whom her mother communicated with her in.
PART 3: ASCENSION TO THE THRONE
Edit
On 24 May 1837, Victoria turned 18, thus fufilling William's wish and in the process, preventing a second British Regency. On 20 June 1837, William IV died from heart failure at the age of 71. Back at Kensington Palace, Victoria was in her mother's bedchambers, near her mother's bed, as required under the System. In her diary she wrote, "I was awoke at 6 o'clock by Mamma …who told me the Archbishop of Canterbury and Lord Conyngham were here and wished to see me. I got out of bed and went into my sitting-room (only in my dressing gown) alone, and saw them. Lord Conyngham then acquainted me that my poor Uncle, the King, was no more, and had expired at 12 minutes past 2 this morning, and consequently that I am Queen. When I heard this, I gasped, and I looked down, seeing them bowing to me. I muttered "Wow"....".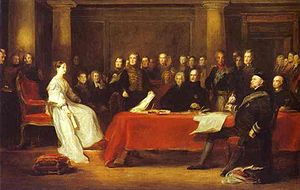 Victoria then dressed and was taken in a Royal carriage to Buckingham Palace, the newly completed palace that was to serve as the offical royal residence, although the Court was at St. James still. The Privy Council and Ministers of the Crown assembled before the Queen. All offical documents on the first day of her reign (oaths of allegiance, proclamation making her queen, etc.) described her as Queen Alexandrina Victoria, but at the Privy Council meeting she signed on to the register as Victoria. Thus, although she was supposed to reign as Alexandrina Victoria, the first name was dropped by a Order-in-Council she issued. On 28 June 1838, Victoria was crowned Queen and she offically moved into Buckingham Palace, becoming the first monarch to formally reside there.
PART 4: ASSUMING OF POWER
Edit
From 1714 until 1837, the Kings of the United Kingdom also ruled as first Electors, then Kings of Hanover. However, because of German salic law, a woman could not become a queen or duchess regant over a German state. Hanover passed to Queen Victoria's uncle, the Duke of Cumberland and Teviotdale, who became King Ernest Augustus I (He was the fifth son and eighth child of George III.) As the young queen remained unmarried and childless, Ernest Augustus also became heir prusumptive to the throne of the United Kingdom until Victoria's first child was born in 1840. The Queen wrote in her diary "I loathe, the fact that Hanover passes to my uncle....the Salic law is not favorable....but I guess that's the way it goes".
Queen Victoria, unlike in real history, was a aboslute monarch. But her predesscors, starting with Queen Anne, had not excrised their power and had allowed their prime ministers to gain more influence over the government, so much that by 1800, the Prime Minister was effective head of government. Victoria's direct predesscor, William IV, had even allowed Lord Melbourne, his prime minister, to excrise his powers. However, the Queen reasserted her authority. She maintained Melbourne as Prime Minister, and the politcally inexperienced Victoria relied on him for advice, so much that she became known as "Mrs. Melbourne". But she made clear her power and independence. However, the Melbourne ministry would not stay in power for long; it was growing unpopular and, moreover, faced considerable difficulty in governing the British colonies, especially during the Rebellions of 1837. In 1839, Lord Melbourne resigned after the Radicals and the Tories (both of whom the Queen detested at that time) joined together to block a Bill before the House of Commons that would have suspended the Constitution of Jamaica. The Queen threatened to dissolve the parilament and make Melbourne Prime Minister for life, but he advised her to drop it.
The Queen then appointed, very angrily, Sir Robert Peel, a Tory, to form a new ministry, but was faced with a debacle known as the Bedchamber Crisis. At the time, it was customary for appointments to the Royal Household to be based on the patronage system (that is, for the Prime Minister, with the Queen's name, to appoint members of the Royal Household on the basis of their party loyalties). Many of the Queen's Ladies of the Bedchamber were wives of Whigs, but Peel wanted to replace them with wives of Tories. Victoria strongly objected to the removal of these ladies, whom she regarded as close friends rather than as members of a ceremonial institution. The Queen issued a decree stripping him of his right to control appointment of members of the household. Peel felt that he could not govern under the restrictions imposed by the Queen, and consequently resigned his commission, allowing Melbourne to return to office. Queen Victoria was so happy she allowed Melbourne complete control over appointment in the Royal Household.
PART 5: MARRIAGE
Edit
Princess Victoria first met her future husband, her first cousin Prince Albert of Saxe-Coburg and Gotha, when she was just seventeen in 1836. Some authors have written that she initially found Albert to be rather dull. However she instead enjoyed his company from the beginning. After the visit she wrote, "Albert is extremely handsome; his hair is about the same colour as mine; his eyes are large and blue, and he has a beautiful nose and a very sweet mouth with fine teeth; but the charm of his countenance is his expression, which is most delightful." She also wrote to her maternal uncle Leopold I of Belgium to thank him "for the prospect of great happiness you have contributed to give me, in the person of dear Albert ... He possesses every quality that could be desired to render me perfectly happy." Prince Albert's father was one of her mother's brothers, Ernest, who approved the match. However at seventeen, the Princess Victoria, though interested in Albert, was not yet ready to marry.
Victoria came to the throne aged just eighteen on 20 June 1837. Though queen, as an unmarried young woman Victoria was nonetheless required to live with her mother, with whom she was angry with over the Kensington system. Queen Victoria gave her mother a remote apartment in Buckingham Palace and usually refused to meet her. The Queen also refused to supply her with servants and banished Lord Conroy from court. Lord Melbourne advised Victoria to marry in order to be free of her mother. Her letters of the time show interest in Albert's education for the future role he would have to play as her husband, although she resisted attempts to rush her into marriage.
Though initially quite popular, Victoria's reputation suffered somewhat in an 1839 court intrigue when one of her mother's ladies-in-waiting, Lady Flora Hastings, developed an abdominal tumour that resulted in her death in July 1839. Hastings at first refused to submit to a physical examination by a doctor, and her abdominal growth was widely rumored to be an out-of-wedlock pregnancy by Sir John Conroy, who was long rumoured to be the lover of Victoria's mother. Queen Victoria hated Conroy for his role in constructing the Kensington System that had rendered her childhood so unhappy, and believed the rumours. Hastings eventually submitted to an examination and was found to have a terminal tumour. When she died several months later, Conroy and Hastings' brother organized a press campaign accusing the Queen of spreading false and disgraceful insults about Lady Hastings. The Queen was so angry she ordered Hastings' brother imprisioned for libel and had Conroy exiled to Saint Helena in the Atlantic.
Victoria continued to praise Albert following his second visit in October 1839 after she had become Queen, when she wrote of him: "…dear Albert… He is so sensible, so kind, and so good, and so amiable too. He has besides, the most pleasing and delightful exterior and appearance you can possibly see. And....I love him." Albert and Victoria fell in love with each other and the Queen proposed to Albert just 5 days after he had arrived at Windsor on 15 October 1839. He accepted and they had a passionate, long-drawn out kiss.
The Queen and Prince Albert were married on 10 February 1840, in the Chapel Royal of St. James's Palace, London. Albert became not only the Queen's love of their lives, but an important political advisor, replacing Lord Melbourne as the dominant figure in the first half of her life following Melbourne's death. The Queen banished her mother to Germany, cut off contact with her, and refused to have anything to do with her.
During Victoria's first pregnancy, eighteen-year-old Edward Oxford attempted to assassinate the Queen while she was riding in a carriage with Prince Albert in London. Oxford fired twice, but both bullets missed. He was tried in court on high treason, and despite claims of insanity, was convicted. The Queen however showed compassion and granted him a pardon. The first of the royal couple's nine children, named Victoria, was born on 21 November 1840.
Further attempts to assassinate Queen Victoria occurred between May and July 1842. First, on 29 May at St. James's Park, John Francis fired a pistol at the Queen while she was in a carriage, but was immediately seized by Police Constable William Trounce. Francis was convicted of high treason. The death sentence was commuted to transportation for life. Then, on 3 July, just days after Francis's sentence was commuted, another boy, John William Bean, attempted to shoot the Queen. Prince Albert felt that the attempts were encouraged by Oxford's acquittal in 1840. Although his gun was loaded only with paper and tobacco, his crime was still punishable by death. Feeling that such a penalty would be too harsh, Prince Albert encouraged his wife, the Queen to assent to the Treason Act 1842, whom she did not support. Under the new law, an assault with a dangerous weapon in the monarch's presence with the intent of alarming her was made punishable by seven years' imprisonment and flogging. Bean was thus sentenced to 18 months' imprisonment; however, neither he, nor any person who violated the act in the future, was flogged.
During the same summer as these two assassination attempts, Victoria made her first journey by train, travelling from Slough railway station (near Windsor Castle) to Bishop's Bridge, near Paddington (in London), on 13 June 1842 in the special royal carriage provided by the Great Western Railway. Accompanying her were her husband and the engineer of the Great Western line, Isambard Kingdom Brunel. The Queen and the Prince Consort both complained the train was going too fast at 20 mph (30 km/h), fearing the train would derail.
PART 6: EARLY VICTORIAN POLITICS AND FURTHER ASSASINATION ATTEMPTS
Edit
Queen Victoria wanted to be a active monarch, a monarch involved in every single aspect of government, not a oramental figurehead saying "Yes" to all things put in front of her. So the Queen began to do so. After the final dismissal of Lord Melbourne, as pressured by the Parilament, the Queen assumed complete control. A Order-in-Council reduced the prime minister to only a mere advisor, the head of government operations in the Queen's name, the leader of the Parilament. The Queen once more appointed Peel, but he was relegated to a sort of parilamentary officator and head of her council.
The Queen started the Royal Reinvolvements. For the first time in a hundred years, the Queen refused to grant Royal Assent to a bill (in this case a bill seeking to regulate royal expenditures). The Queen declared that her proclamations were to be issued "on my own initative". When Prime Minister Peel tried to issue a proclamation without her knowledge, the Queen refused to sign it and declared it null and void.
Ad blocker interference detected!
Wikia is a free-to-use site that makes money from advertising. We have a modified experience for viewers using ad blockers

Wikia is not accessible if you've made further modifications. Remove the custom ad blocker rule(s) and the page will load as expected.