Cast (in order of appearance):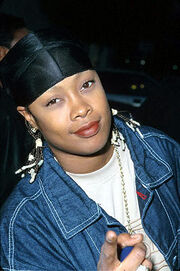 It may be helpful to have these actors in mind as you follow this story.
Agent Jay (Jason Edwards) - Will Smith
Laura Vasquez - Rosario Dawson
Shakita Tolan - Shawntae "Da Brat" Harris (rap artist)
Angelique Tolan Edwards, queen of Zartha - Gina Torres (prob. most famous as "Zoe" in "Firefly/Serenity", many other films and TV shows)
Agent Kay (Kevin Brown) - Tommy Lee Jones
MIB Chief Zed - Rip Torn
Nathaniel Collins, Agent Enn (T'Na'al) - Nick Cannon (was in MIIB)
Young Agent Kay - Ethan Hawke (in a flashback sequence)
T'Ka'ar - Dennis Haysbert ("24")
T'Av'la'a - Alan Rickman (Professor Snape of the "Harry Potter" films)(or possibly David Straithairn of "Good Night, and Good Luck")
T'Loria'an - Jamie Bell ("Jimmy" in "King Kong (2005)")
Mother Afua - not cast yet
Serleena Xath - Lara Flynn Boyle
Scrad - Johnny Knoxville
If you have other ideas please advise.
Director
When this story was being thought up, I envisioned Janusz Kamiński directing. He is the primary cinematographer for all of Steven Spielberg's since Schindler's List.
After seeing Children of Men in the winter of 2007, however, I wonder if the style of Alfonso Cuarón (or his close colleague Guillermo del Toro, who directed Hellboy) would also be suited for this specific story, seeing that Cuarón also directed Harry Potter and the Prisoner of Azkaban, which is regarded as the "darkest" yet the best of the Harry Potter films to date; I envisioned a Potter-esque feel to this story from the beginning.
Navigation
---
You are on page: Sun of Zartha/Cast list.
Go to page: Synopsis Foreword Production logo 1 2 3 4 5 6 7 8 9 10 11 12 13 14 15 16 17 18 19 20 21 22 23 24 25
Backstory | Cast list | Characters | Why I wrote this story
Sun of Zartha
Ad blocker interference detected!
Wikia is a free-to-use site that makes money from advertising. We have a modified experience for viewers using ad blockers

Wikia is not accessible if you've made further modifications. Remove the custom ad blocker rule(s) and the page will load as expected.