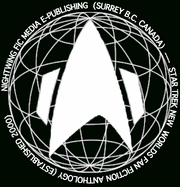 http://www.angelfire.com/ak4/startrekfanfiction/Merchandise.html
http://starbase_hellsgate.tripod.com/anthology.html
http://www.facebook.com/trekwriter36
The internet's best fanfic anthology. Also, a business that covers everything from creating graphics for talk radio spots with Jeff Ferguson, North American (Star Trek) fan productions, audio dramas, & kindle/tablet style virtual vanity (canon & original/spin-off) fanfic publishing. A family business (complete with Gift Shop,) owned by Jason & Amber Mackey-Hauck that accepts fanfic novel cover commissions / public donations via paypal. Amber is a resident of Ridgecrest California U.S.A. & Jason, a resident of Surrey B.C. Canada, both in their mid 30's.
Ad blocker interference detected!
Wikia is a free-to-use site that makes money from advertising. We have a modified experience for viewers using ad blockers

Wikia is not accessible if you've made further modifications. Remove the custom ad blocker rule(s) and the page will load as expected.