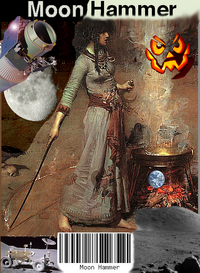 Moon Hammer is a science fiction ghost story. A witch hunter from the 15th century returns to haunt the people of Earth.
Made specifically for Halloween, this story has 13,000 words. There are three chapters so that you can "Tread the Circle thrice about to keep unwelcome spirits out."
Audio version
Edit
The basic plot of the story is now complete. There is still room for improvements to the story. The next goal is to adapt the Moon Hammer story for audio (Moon Hammer/Audio version). Collaborators are welcome!
Ad blocker interference detected!
Wikia is a free-to-use site that makes money from advertising. We have a modified experience for viewers using ad blockers

Wikia is not accessible if you've made further modifications. Remove the custom ad blocker rule(s) and the page will load as expected.