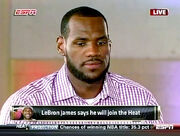 At 12:01 on July 1, 2010, the most sought-after free agent in recent history was officially on the market. At this time, Lebron James was officially relieved of his strenuous employment with the Cleveland Cavaliers and ready to be courted by whichever team was willing to put up with him. Since he was the number one overall pick in the 2003 NBA draft, Lebron spent seven years attempting to lead a team of mediocre NBA players to a championship. So when Lebron was given the opportunity to choose which team he would play for, it was expected he would try to play alongside another superstar since he has already proven his back is not strong enough to singlehandedly carry a team. The teams most interested in Lebron James are as follows: the New York Knicks, New Jersey Nets, Miami Heat, Chicago Bulls, and of course, the Cleveland Cavaliers. In an extreme turn of events, Lebron would go where nobody saw coming…Toronto.
New York Knicks: The Knicks are located in the most prolific city in the World: New York. Also, New York fans are known for being especially viscous and have high expectations of their sports teams. If Lebron could not even satisfy a small fan base such as Cleveland, how could he handle the Big Apple? Also, who wants to play for a team called the Knickerbckers? No surprise Lebron said no to the Knicks.
New Jersey Nets: The Nets were in the process of changing ownership after the purchase of most of the team by Russian billionaire Mikhail Prokhorov and that made the front office difficult to deal with. But possibly the biggest voice of the east coast still owns a portion of the team: Jay-Z. Who wouldn't want to work for Jay-Z. That means that when he would come down to the court and talk to Lebron, he would most likely bring his wife Beyonce, and trying to impress her can be quite stressful. For this Lebron obviously could not play for New Jersey.
Chicago Bulls: No one NBA player has had more of an impact in one city than Michael Jordan. When you see the Bulls, you think Jordan. When you see 23, you think Jordan. When you see Chicago, you think Jordan. There's no way Lebron could go to Chicago and have to play at the same caliber and deliver six more championships to Chicago so he definitely could not play there.
Cleveland Cavaliers: Seven years. Lebron invested seven years into this city and has zero…ZERO rings to show for it. That truly is sad. After coming so close year after year, why try that again. Instead of being beloved by Lebron's home state, he would rather just leave for greener pastures.
Miami Heat: Finally, a team with other superstars on it. The only problem here would be, how Lebron could take a team away from his best friend Dwayne after they got so close during their Olympic Gold run. Lebron also felt bad for the NBA because the Heat would win "not two, not three, not four, not five, not six, not seven…" championships, and that would just not be fair to everyone else. http://www.youtube.com/watch?v=pT-I8jQDQ7cThe Heat were out.

Then out of nowhere, Lebron figured it all out, he would go to the Toronto Raptors. There he could fly under the radar and not have to worry about any pressure from fans because, after all, there are no Raptor fans. The only way to get away from all the pressure is to run far away…to another country.
Just remember Lebron, Darko Milicic has one championship ring, Adam Morrison has two rings, and you still have none.
Ad blocker interference detected!
Wikia is a free-to-use site that makes money from advertising. We have a modified experience for viewers using ad blockers

Wikia is not accessible if you've made further modifications. Remove the custom ad blocker rule(s) and the page will load as expected.