Finnity Road Police Station is located on Viking Way, a sub street leading from Finnity Road, the road that the station takes it's name from. The station was initially in a small building on Finnity Road itself however in 2006 it underwent a huge development and moved 1/2 a mile away to a large spot that had previously housed been a large green area.
Development
Edit
The development at Finnity Road Police Station brought about a number of features including the inclusion of a CID suite along with 5 extra interview rooms and 10 extra offices. The canteen inside the newly developed Finnity Road is also larger.
Appearance
Edit
It is split into to three buildings, the Visitors Block, the Main Building and the Senior Block. The visitors block has a large window showing inside the station, whilst the Main building is a four-storey brick building and the senior block a three-storey one.
Facilities
Edit
Large CID Suite.
6 Sergeant Offices
4 Inspector Offices
6 Senior Officer Offices within Senior Officer Block
Senior Officer Block - With offices belonging to Assistant Chief Constable Paula Lloyd, Superintendent Steven Clyde and Chief Inspector Linda Thompson.
Large Canteen
7 Interview Rooms
Riot Room
CCTV Control Room
Incident Response Vehicle
Edit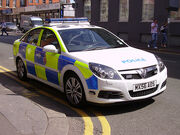 IRV 1: Tango Oscar 2-4
IRV 2: Tango Oscar 2-5
IRV 3: Tango Oscar 2-6
The Incident Response Vehicle is used during crimes requiring quick response i.e. Burglary in Progress or an Assault in progress.
There are four Vauxhall Vectra's at Finnity Road all of these are built to a higher spec than other vehicles due to their requirement of rapid response.
Usually only two IRVs are on patrol whilst two more remain as spares. Sometimes during particiularly hard times another IRV is deployed although four IRVs being deployed is very rare.
There is also a Focus Area car tuned to the same specification used as a spare.
The Area Car is often assigned to one area and patrols that area. There are 7 at Finnity Road. Of these 7; 2 are Ford Focuses and 5 are
Ad blocker interference detected!
Wikia is a free-to-use site that makes money from advertising. We have a modified experience for viewers using ad blockers

Wikia is not accessible if you've made further modifications. Remove the custom ad blocker rule(s) and the page will load as expected.