July 10, 1811Edit
Querido Diaria,
The Spaniards have been treating us very harshly and we have had enough. A French Revolutionist, Francisco de Miranda[1] has declared independence for us. I have only just heard about this from a close friend but this is exhilarating. My friend has said that he too is going to join the revolution where he can be free and nobody can stop them but the Spaniards. However, I do not want leave my luxurious lifestyle. As one of the wealthiest men in Carupano, I have so much to give up. I own one of the bigger houses in the town and a successful rum business, which is traded throughout the city.
As I look around Carupano, I see so many people upset and angry from the way they have been treated by the Spaniards. But with much of Spain battling Napoleon and France, this gives us a great opportunity to revolt. People are starting to join together and recruiting others, as well. I look outside of my window and hear groups of people going door to door looking for their own Venezuelan people for their support of independence. If I join the revolution, with the popularity I have already, many more people who were undecided will join forces with us. Once we have claimed our independence, people will look up to me as a leader of this city and possibly the whole nation of Venezuela. I could be as popular as Francisco de Miranda and Simon Bolivar, well known revolutionary leaders. Now I have made my decision, I will join the revolution and claim our independence from Spain.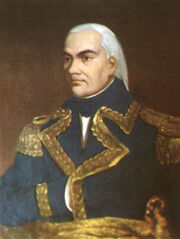 hasta la proxima vez,
Santiago
October 25, 1812Edit
Querido Diaria,
I've made my way to Caracas, along with the other people in Carupano to meet up with everyone willing to achieve independence. However, our revolt was doing very well, a terrible earthquake had killed or seriously injured most of the people here. However we shall remain strong, as many Spaniards have also been killed. Almost 20,000 of the Venezuelans died but I survived only to walk away with a few cuts. The numbers may not be on our side but my men and the people around Venezuela can overcome this catastrophe and succeed.
Le saluda atentamente,
Santiago
April 13, 1813Edit
Querido Diaria,
I recall that day when I finally decided to join the revolution. I was so happy to do it because I truly do oppose the monarch and everything they have done. They paid no attention to us until they thought they could benefit and overall abused their power. Clearly, their overreaching power has been intolerable and it is time for a change. Anyways, I headed out with the men sometime in September. It has been hard to keep track of the time and dates due to the fact that I barley get any sleep. For the first two battles I really was excited and motivated. There was somehting about defeating the Spanish monarch little by little and setting all of the countries free, that was so exhilerating. I even remember the day that Simon Bolivar declared the Decree of War to the Death, anyone who was born in Spain could be killed.The spanish had executed hundreds of Venezuelans and taken away their property and everything they owned, so it only seemed fair.
One of the highlights of the war for me was when the Venezuelan Second Republic was announced. It was a big step in declaring our independence, but not big enough step. There was a lot of work to be done before any independence could be fully declared. But I was dead tired and so were my men. With no sleep, little food, and uncountable hours of tactical work I didn't know how long I could keep going. Not to mention, that it wasn't an easy thing to go through the streets killing people, it changes the way you look at morality. I am convinced that anyone who fights for too long, could lose their mind. Looking at these men that I have led, I can already see some of it in their eyes. Their ruthlessness and hunger to conquer, some see it as determination to declare independence. But if we wanted to overthrow the government, we had to keep fighting. We couldn't stop. If we wanted to win we needed to fight until they surrender or we fully conquer them. I couldn't bear being the loser.
hasta la proxima vez,
Santiago
March 16, 1815Edit
Querido Diaria,
When nightfall hit on our journey to Bogota, we were forced to set up camp in an unusual territory in the woods. Late that night, in my tent, I heard leaves rustling. It sounded like many men walking through the woods. My heart started to clench thinking it could be an ambush. If they attacked now, there would be no time for my men or I to defend ourselves. I stayed down in my tent but clenched onto my weapons which gave me the least bit of feeling of safety. The crack of my tent opened and I knew i was going to die. But instead I was greeted by six spanish men, who told me they wanted to offer my their help. Their eyes were full of fear and they were stick thin from hunger. They were part of the army but they said they needed my help, they wanted their families to be safe. In return for them coming to fight with my army, they wanted to move their families into Venezuela. I did the opposite of what any commander should have done and took their offer. More than a third of my army had dropped already from either disease, hunger, or lack of sleep. I needed the help.
When the Republic fell in 1814, I returned home despite my best efforts to stay in the fight. I remain at home and watch over the war from afar as they continue to conquer. Jaquin Vegas took my place and I came to handle the struggling economy back in Venezuela. Back at home, my tactical skills are actually of use. When I was at war, my tactics weren't as focused due the fact of my wandering mind and constant paranoia of being ambushed, not to mention my constant struggle with my health. I had come down with a bad cough which weakened my senses and focus on planning. But since I have been at home I have been able to create and quickly send many plans to the army. Some of them have become crucial to Venezuela's victories.
While the war continues on, I stay home in Venezuela thinking of more plans to defeat the Spanish monarchy. No one should have to live under their rule. My cough that I had during the war has resurfaced but with the right treatment I should be recovering soon. If there is one thing I want to do, it is to see Venezuela and all of the other countries free and independent. We all deserve it after what the Spanish have put us through. I continue to pray for the men who have fallen in the war and did not live to see this historical war carry on.
Le saluda atentamente,
Santiago
December 18, 1828Edit
Querido Diaria,
It has been a while since I have written into my journal but I misplaced it and only to find it a couple of weeks ago. Just this year Venezuela had become an independent country by breaking off of Spain. Thanks to the help of Simon Bolivar commanding our army of liberations, he soon formed a Republic of Gran Columbia but fell this year and made the countries, Colombia, Ecuador and us Venezuela independent countries. I have stayed in my home in Carupano and continued to stay successful in my rum business. I look around and see that everyone around here has a smile on their faces. The independence has made people more ambitious and excited to do something new in their lives. I've seen many new businesses pop up and some new rum business that are competing against me. I don't blame them for striving for their new goals.
Muy atentamente,
Santiago Líder
RefrencesEdit
Ad blocker interference detected!
Wikia is a free-to-use site that makes money from advertising. We have a modified experience for viewers using ad blockers

Wikia is not accessible if you've made further modifications. Remove the custom ad blocker rule(s) and the page will load as expected.