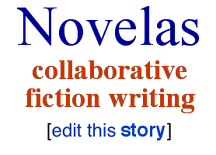 The Fiction Wikia now has X active users and an article data base size of Y (wikistats | webalizer statistics). Fiction is being written in several languages and in many different formats including novels, short stories, fan fiction, scripts and several experimental forms. The Fiction Wikia has been making use of its Current events page for brainstorming on how to increase general awareness of the existence of this wiki resource for fiction writers.
Ad blocker interference detected!
Wikia is a free-to-use site that makes money from advertising. We have a modified experience for viewers using ad blockers

Wikia is not accessible if you've made further modifications. Remove the custom ad blocker rule(s) and the page will load as expected.