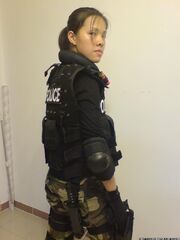 The characters of Cellular Civilization are listed below in two page sections, Main characters and Minor characters. The characters are listed in order of appearance.
Main characters
Edit
Stefiz al-Arabid - also known as: Stefi and CrystalCarbon (a wikia user name). See: CrystalCarbon. Stefi is a computer science student and a close friend of both Charles Parker and Jennifer Van Coak. See also: Stefi
Dexamene Gregores - also known as: PAlbert (a wikia user name), also invents the Lanora (Lani) Beliakoff identity. See: Cellular Civilization: PAlbert. Note: Dexamene initially creates "Lanora" as an alternative identity, then one of her sisters (Tess) is brought to Earth and takes over the "Lanora" identity. Dexamene has a special interest in Stefiz al-Arabid and is an Interventionist. See also: Dexamene.
Charles Parker - Physics major and pre-medical student who is on a university Presidential Scholarship. Also known as: Charlie. See: Charlie
Jennifer Van Coak - President of the student Computing Club. Also known as: Jenny. See: Jenny
Cathy (Catherine O'Neil) - Engineering student and friend of Jenny. See: Cathy
Marisa Bercovich - also known as: Mary. Dorm Council President of the restricted dorm where Dexamene spends a few days. See: Mary
Andresklo - a robot working with Dexamene Gregores. See: Andresklo
Alfred Lincoln - a robot working with Dexamene Gregores. See: Lincoln
Thomas - a computer science student who inadvertently becomes involved with Dexamene. See: Thomas
Lanora - "Lanora" is an alternative identity created by Dexamene and then adopted by Yasas, one of Dexamene's sisters. See Lanora.
Tess - sister of Dexamene. Sacrificed to the Overseers. See first mentioned by her other sister, Lanora. Plays the role of Madeline Beliakoff on the day of the Party.
Amelia - also known as "Eleanor" (not her real name); the Overseer who comes to Earth in order to capture Dexamene. See: Amelia.
Yasas - the sister of Dexamene and Tess. She takes Charlie off of Earth while playing the role of "Lanora".
Petrif - a robot who works with Andresklo to assist human Interventionists on Earth.
Minor characters
Edit
Security Officer Compton - a campus security officer, see the chapter section called Compton.
Security Officer Duncan - a campus security officer
Ferace Kerneigh - From the Observer Base on the Moon; brought to Earth in order to impersonate Stefi. See the chapter section called Ferace.
Captain McDonald - Police Captain, City Police. See Lincoln.
Madeline Beliakoff - invented identity, mother of Lanora (played by Tess).
Raul - A third robot working with Dexamene; replaces Alfred. See Robot in black.
See also: Cellular Civilization: Glossary
Here is a map of the chapters:
              _> Mary –––––––––––––––––––––> Lincoln
             /                                \
            /                                  \__> Amelia
      PAlbert ––––––––––––––––––––> Andresklo
      /  \                          \---->Ferace      ------> Yasas
     /    \      __----------> Cathy                /
    /      \    /                 \                /
   /        \  /                   \__________>Tess
CC –––> Charlie ––-----–> Stefi
   \                    
    \                    ----------------> Lani
     \                  /                     \
      \ _______---> Jenny –––> Thomas          \______> Dexamene

Sunday ----> time flow --> one week in the Fall --> ---------> Saturday
Useful pages for the reader: List of characters and the Glossary. Readers can discuss the story at Talk:Cellular Civilization.

If you want to help write the story, see the meta page (warning: spoilers!).
Key: CC = CrystalCarbon; most of the first chapter is told from the perspective of Stefiz al-Arabid.
Ad blocker interference detected!
Wikia is a free-to-use site that makes money from advertising. We have a modified experience for viewers using ad blockers

Wikia is not accessible if you've made further modifications. Remove the custom ad blocker rule(s) and the page will load as expected.